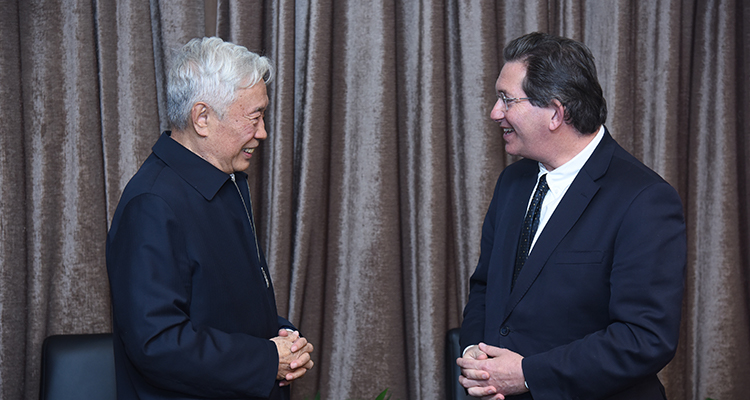 Meeting between President and Vice-Chancellor Professor Ian Jacobs and UNSW's first Chinese graduate, Professor Yang Qixun, celebrates knowledge exchange, partnerships and the value of international students.
President and Vice-Chancellor Professor Ian Jacobs recently had the pleasure of meeting UNSW's first Chinese graduate, Professor Yang Qixun. As China established its 'Reform and Opening Up Policy' in 1978, Professor Yang was among the first batch of 200 students selected by the Chinese Government to study overseas. Laurie Pearcey, Pro-Vice Chancellor International, had pursued the relationship with Professor Yang following a lead from the Department of Foreign Affairs and Trade and arranged the meeting in Beijing.
Professor Yang commenced his Doctor of Philosophy in Electrical Engineering at UNSW in 1979 and was supervised by Emeritus Professor Ian Morrison. He graduated with a PhD from UNSW in 1982 and has very fond memories of his time at the University. "People there were so kind to me," he said. "Professor Morrison was the world leader and I really learned a lot." Professors Yang and Morrison met again in China in 2005 but have not seen each other since. Professor Morrison returned to UNSW prior to the visit to record a video message for his former student.
The emotion from Professor Morrison, his team and the UNSW group in the room when the video played was evident.
When Professor Yang returned to China, he commenced an academic career at North China Electric Power University before establishing Sifang Automation in 1994. He was also Vice-President of the Chinese Academy of Engineering. The basis of the company was Professor Yang's micro-processor which was spun out of knowledge accumulated during his PhD at UNSW. "When I returned, China was on the eve of power and I was able to use the new technology for the micro-processor," he said. The micro-processor, the first to be built in China, represented a major milestone in China's science and technology development. It was successfully commercialised and exported to international markets, including the United Kingdom.
The visit was an extremely happy occasion and a great example of the importance of knowledge exchange, partnerships and value of international students to the University. Presents were exchanged, including a UNSW Monopoly set, a UNSW tie and an open invitation to return to the University which he remembered so fondly and was the foundation for Professor Yang's very successful career.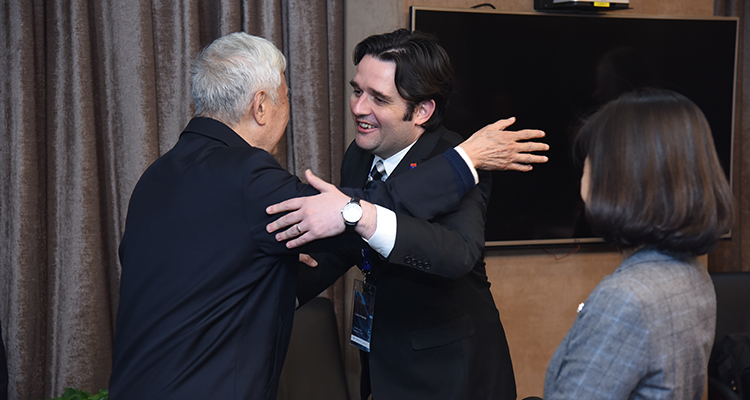 Comments