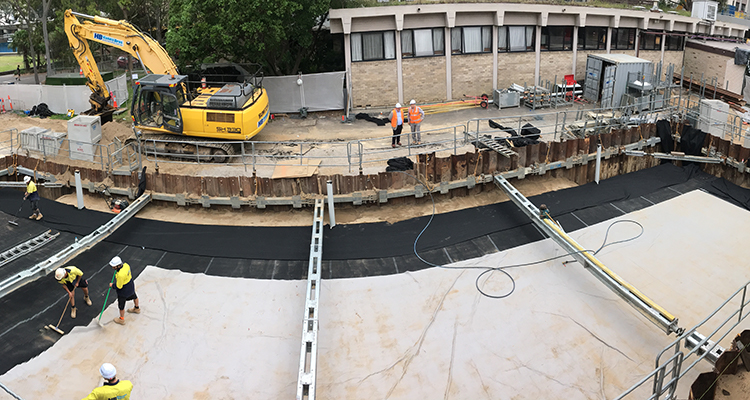 UNSW is installing a second rainwater capture and reuse pit under Kensington campus, which will reduce stormwater damage and replenish water supply for the local area.
UNSW is expanding its landmark rainwater capture project with the installation of a second percolation chamber below the Kensington campus. The additional pit will help drain storm water from 90% of the campus into the Botany Sands Aquifer which lies beneath the University.
As well as replenishing the aquifer, which is used as an additional water supply by local residents and industry, the percolation system takes pressure off Kensington's stormwater pipes by channelling the water into the aquifer rather than the council's stormwater system.
The original stormwater retention chamber, one of Sydney's largest percolation pits, was installed in 2007 under Village Green Oval. The second chamber built near UNSW's Roundhouse venue will take advantage of stormwater flows which are not captured by the system under the Village Green.
The estimated collected stormwater per year is equivalent to 20 Olympic swimming pools. Bore water is then extracted from the aquifer and reused to supply 43% of the total campus water demand.
Claude Pelosi, UNSW Engineering Services Senior Manager, said: "This system is a win for water sustainability, the environment, and the University's bottom line.
"Instead of using drinking water to flush our toilets, we substitute bore water in as many contexts as possible. This includes the University pool which is 100 percent treated bore water, toilets, all irrigation, laboratory uses and air-conditioning."
The changes to water usage and conservation on the Kensington campus over the past 11 years have seen a 45% drop in consumption of potable water which is assisted with other water saving initiatives like low flow taps, low flush toilets and use of water efficient cooling towers. This is despite a 10% building growth on the site.
William Syddall, UNSW Environmental Sustainability Senior Manager, said: "UNSW has an important role to play in not only researching and teaching about sustainability issues but demonstrating sound practices on our campuses. The expansion of our landmark aquifer recharge project allows UNSW to further reduce potable water usage despite an increase in student numbers and total building area."
The new chamber will be 30 metres long, 10 metres wide and 4 metres deep. It will increase rainwater capture by 20% compared to the original pit built in 2007. A milk-crate-like structure is used to create an empty space where stormwater is collected. The water is then allowed to seep slowly through the sandy soil and into the aquifer.
In a year of normal rain, the system would return 30 megalitres of stormwater to the aquifer.
The new tank will be operational in early 2019.  
Comments