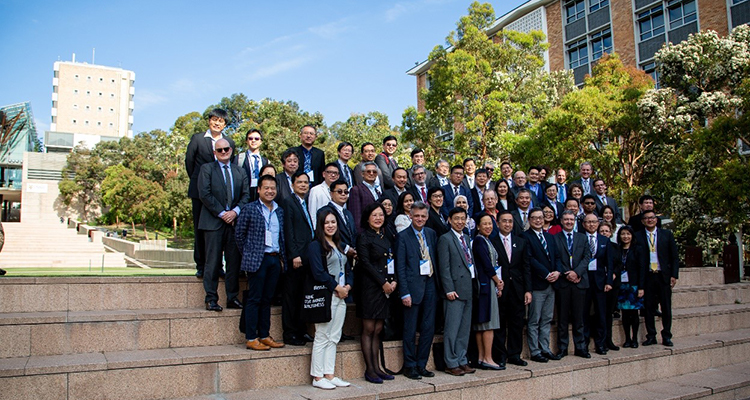 More than 80 business school deans and delegates from across the Asia-Pacific gathered in Sydney to discuss the challenges and opportunities facing students in our rapidly changing workplace.
The two-day Association of Asia-Pacific Business Schools Annual Meeting 2018, hosted this year by UNSW Business School, saw representatives of the Association of Asia-Pacific Business Schools (AAPBS) arrive in Sydney to examine matters such as the impact of the gig economy, hybrid workforce, AI and big data. The primary purpose of the AAPBS is to provide leadership and representation to advance the quality of business and management education in the Asia-Pacific region. 
"There were some very important take-aways for business schools, as well as for universities more broadly," said Professor Chris Styles, Dean UNSW Business School.
"First, the work world that our graduates are entering is rapidly changing in fundamental, and not always predictable ways.
"Second, we will face increasing demand for content that is packaged in ways other than traditional degree structures. What this means is that as well as continuing to innovate in terms of course content and modes of delivery, we will also need to be innovative in regard to how we modularise our content."
"We may need to offer our respective markets much more that is in short course form, leading to greater focus on what are sometimes called micro-credentials rather than continuing to have as dominant a focus on two and three-year degrees."
Presentations were made by a range of speakers from academia, professional service firms, venture capitalists and start-ups. These include Catherine Friday, Partner, Oceania Education at EY; Dr Simon Blackburn, Senior Partner at McKinsey & Company; Ben Hamer, Director within the People and Organisation consulting practice at PwC; and Stephen Scheeler, former Managing Director of Facebook Australia.
Professor Styles emphasised the importance of engaging with international counterparts and industry, "What stood out for me about this year's meeting was the high level of industry involvement. The majority of the speakers were from the business world and this provided the platform for a very market-focused conversation amongst business deans and industry representatives."
The 140 AAPBS members will next meet in May 2019 for an academic conference. It will be hosted by Ritsumeikan Asia Pacific University (APU) in Beppu on the island of Kyushu in Japan.
Comments