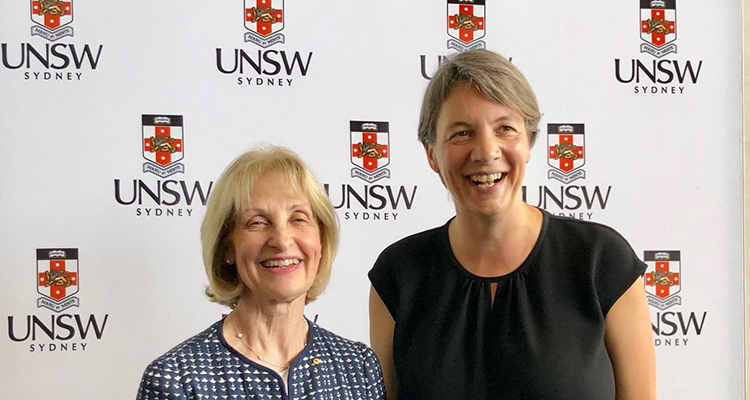 At the final UNSW Women Connect Series event for the year, Michelle Simmons reflected on her responsibility to aspiring scientists as the 2018 Australian of the Year. 
Last week, Scientia Professor Michelle Simmons addressed the final UNSW Women Connect Series of 2018.   
Michelle, an innovator in the quantum physics space, is the 2018 Australian of the Year and is one of the few Australian academics to have been awarded two Australian Research Council Federation Fellowships. She currently holds a Laureate Fellowship. 
Hosted by Deputy Chancellor, Jillian Segal AM, the inspiring talk detailed Michelle's current industry-leading work on the development of the world's first quantum computer, how she has embraced her role as the 2018 Australian of the Year, and her ambition to challenge perceptions of the physics industry.  
Alongside a small team, Michelle has been leading the way in developing the next generation of computers, which would allow humans to solve problems in minutes that might otherwise take thousands of years.   
This represents a paradigm shift in the technology space as a quantum computer will be able to look at all possible outcomes of a problem simultaneously and have the potential to revolutionise data-driven industries.  
"We're hoping to build computers that will have the power to analyse and optimise data at a speed never seen before. This will see technology move through a huge transformational change as we begin to interrogate data at a level that is currently not possible," she said  
As this year's Australian of the Year, Michelle discussed the responsibility she felt to aspiring scientists everywhere. She noted how the position has enabled her to focus on something she is extremely passionate about – comprehensive science education in schools allowing for girls to build careers in physics.  
"Young girls see a career route in science as risky. With a lack of understanding on the possible career paths and the future prospects available to them they are tending to stick to well-trodden career pathways. However, with the technological changes coming there are so many opportunities out there for them" 
As a role model and mentor in this space, Michelle hopes to further break down the stereotypes attached to females working in science.   
"As we continue to see more and more women in leadership roles, it allows young girls to see that anything is possible"  
Michelle, who is an advocate for encouraging young people to pursue what they love, has spent much of her time as the 2018 Australian of the Year visiting schools to speak to young girls and boys about the opportunities that come from studying STEM subjects which offer skills that can help shape their futures.  
Michelle continues to encourage teachers and educators everywhere to ensure that children who enjoy maths and science, are provided with a more structured support for future career opportunities in science.  
When discussing how she got to where she is today, Michelle, who was born and educated in the UK, shared with attendees that she consistently looked for something that challenged her as she went through school. She went on to applaud Australia for the number of opportunities available to young people here.  
"Australia truly offers a culture of academic freedom. We are living in a country that enables young people the opportunity to take on ambitious projects in large collaborative teams and embodies a culture of openly pursuing your goals." 
Looking to the future, Michelle hinted at the exciting opportunities ahead and where her field of research might be headed "as the technology develops, the potential to understand how the human body works, how our brains work and understand the universe, could be very real."  
Comments