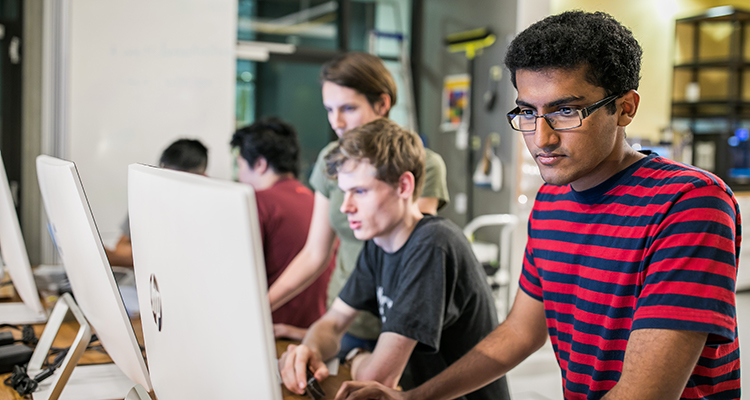 Protect yourself from common cyber threats with tips from the Cyber Security Awareness Program to keep your identity and data safe.
As we approach the holiday period, Australians are expected to spend upwards of $3 billion online. Unfortunately, it is also an opportune time for cyber criminals to target online shoppers.
According to the ACCC's annual Targeting scams report, total losses reported from Australians exceeded $340 million in 2017 with phishing, identity theft and false billing being the most commonly reported scams. These losses demonstrate the harm caused by scams on the Australian public.
UNSW is committed to protecting its students, employees and IT systems from cyber threats and has recently introduced the Cyber Security Awareness Program. The program is a UNSW IT initiative focused on creating a strong cyber security culture across the University to better protect our staff, systems and data. Training has already been made available to IT staff with training for staff in other faculties and divisions to be launched in 2019.
An average of 30 million malicious emails are blocked every month at UNSW, however, the unfortunate fact is that we cannot block all malicious emails and some will slip through the cracks.
It is therefore important that you familiarise yourself with common cyber threats so that we can all be cyber smart and safe online this holiday season.
What are the risks to UNSW and individuals?
UNSW protects its students, employees and IT systems through the implementation of advanced cyber security controls. However, carelessness and user errors remain the weakest link in cyber security.
Breaches of security can occur through social media, emails or simply visiting websites infected with malware. From here, cyber criminals can infiltrate your computer and UNSW IT systems to access personal data and steal sensitive information.

Computer viruses are also becoming increasingly sophisticated. Unauthorised access to your computer at home or at UNSW, where sensitive information is stored, can lead to identify theft, financial loss and can ultimately compromise our reputation as a world class education and research institution.

These types of risks are extremely serious, so it pays to be vigilant in ensuring your online safety.  Familiarise yourself with the following tips and protect yourself and UNSW. And remember they apply equally to when you're at work and at home.
How do I report if I notice something?

Act fast. Please report any suspicious activity to the UNSW IT Service Centre

Web: www.it.unsw.edu.au
Email: itservicecentre@unsw.edu.au
Tel: (02) 9385 1333
Fax: (02) 9385 1537
Tips for staying safe online from Stay Smart Online
Avoid being scammed. Stop and think before you click.

 A typical technique of a scammer is to request your user ID and password via email. This is not UNSW practice and we will not ask you for these personal details. Before you click on links and attachments, always check the sender's URL. If in doubt, contact the IT Service Centre.


 

How safe is your computer? Don't let the bugs in!

 Install and update your software and set it to scan regularly. Click 

here

 to get a free copy of Symantec Antivirus, available to all current staff members or currently enrolled students of UNSW.

One small step for you, one giant leap for your online safety.

 Protect your data and computer. Manage your updates on all software, operating systems and applications and always lock your computer when unattended.


 

Don't put your system at risk. Buy from a trusted source.

 Ensure you download apps from reputable publishers and read all permission requests before you commit.


 

You don't share your toothbrush so why share your passwords?

 Be smart. Don't share your passwords. Change them regularly and keep them secure.


 

Don't friend a fraud.

 Identity theft and fraud is a problem on social media networking websites. Practice safe social networking.
For more information, tips, or videos, visit the Stay Smart Online website.
If you have any questions or comments on the UNSW Cyber Security Awareness Program, please contact us via email at cybersecurityawareness@unsw.edu.au.
Comments