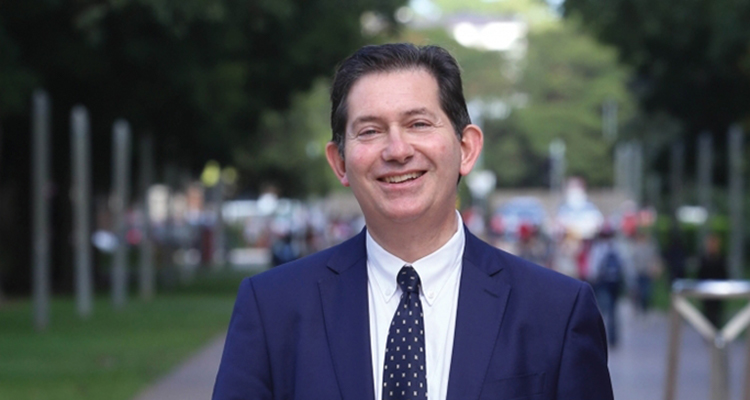 Colleagues
We were sorry to have to cancel Staff and Family Day on Wednesday due to the rain. There are simply some things you can't control, and the unlikely occurrence of more than a month's worth of rain falling in a matter of hours is one of them.
On a brighter note, Tuesday's ARC Grants announcement contained some fantastic news for UNSW. In this latest round, our university will receive $45 million for 114 projects, making us the leading institution by some margin. UNSW also received more Discovery Project grants than any other Australian institution for the third year running. You can read more detail about the announcement here. We also heard this week that 19 UNSW researchers have been included in the Clarivate Analytics 2018 Highly Cited Researchers list, more than triple the number from last year. These two developments indicate the quality and breadth of our researchers, and the impact of our 2025 Strategy. The result is testament to the commitment to excellence and constant improvement embodied by staff across the university. Congratulations to all involved in these achievements.
The promotion round for 2018 has also just been completed and I am pleased to let you know that 205 staff have been successful in promotion applications, with 83 promoted to Senior Lecturer, 76 to Associate Professor and 46 to Professor. We also recently appointed 15 new Scientia Professors, seven of whom are women. My congratulations to all. The large number of promotions reflects the impact of efforts to continually increase academic standards and the investment which is being made in supporting existing staff and external recruitment. We also finalised the appointment of the next round of 40 Scientia Fellows, from an outstanding field of 759 internal and external applicants. This follows the recent appointments of nine new Scientia Education Fellows, who join the existing 31 members of our Scientia Education Academy to promote and inspire educational excellence across UNSW and beyond. Read more here.
I am pleased to announce our five new Diversity Champions, who will represent our staff and students over a two-year term from 2019-20. Associate Professor Janelle Wheat and Associate Professor Adrienne Torda will share the Gender Champion role; Arifa Sarfraz will hold the Cultural Diversity Champion role; Dr Kristoffer Greaves will take on the Disability Champion role; Dr Bridget Haire will be the LGBTIQ Champion; and Patrick Armstrong will be Champion for Flexible Work and Leave Options. You can learn more about our new Champions in this edition of Inside UNSW. I'd also like to let staff know that a new academic lead has been appointed to advance the implementation phase of our Athena SWAN Action Plan. Thank you to Associate Professor Lucy Marshall from the Faculty of Engineering for taking on this important role. Lucy will be supported by Melanie Schwartz from the Law Faculty who will take on the Deputy Lead role. My thanks to Professor Laura Poole-Warren for her tremendous work leading the self-assessment team and submission since UNSW joined the Athena SWAN program in 2015. This has been a sustained team effort of great importance to the future of UNSW – congratulations to Laura and all involved.
Last week I travelled to Beijing for the launch of an exciting new partnership between UNSW, the Chinese Academy of Sciences and the publisher Springer Nature. The partnership will enhance existing opportunities for collaboration between UNSW and the Chinese Academy of Sciences, with which we have partnered since 2009, and will also include an annual forum focusing on translating rigorous, evidence-based intellectual inquiry into policy recommendations to government. The inclusion of Springer Nature gives this initiative enormous global reach and will help position UNSW at the forefront of thought leadership on the world stage. While in Beijing I also had the pleasure of meeting UNSW's first Chinese student, Professor Yang Qixun, who graduated from UNSW with a PhD in Electrical Engineering in 1982 and has played a major role in the development of China's electricity distribution. It was a very happy occasion and you can read more about it here.
On the topic of partnerships, it was great earlier this week to be part of the PLuS Alliance end of year event. It was a welcome opportunity to congratulate our inaugural PLuS Fellows as their term comes to a close, and to celebrate the 29 newly-elected Fellows and all that the Alliance has achieved in less than three years. In 2019, we are looking forward to further developing our education programs, building more joint research projects and progressing our existing plans for a PLuS Engineering School in London.
I was pleased to speak at the 21st Century Leadership Summit at UNSW on the weekend and reflect on some of what I have learned about leadership as a doctor, academic, charity worker and university leader. If you are interested, you can read my remarks here. 
It was terrific to join the Roundhouse Relaunch event for alumni on Friday evening. The Roundhouse means so much to our expanding alumni community, and to be back in the iconic building brought back many happy – and often quite amusing – memories. Our alumni continue to support UNSW in many ways and the refurbishment of the Roundhouse was in part enabled by their generosity. It was wonderful to have the chance to say 'thank you' on Friday.
Last week, UNSW hosted the African Studies Association of Australasia and the Pacific Annual Conference. I had the pleasure of speaking at the event and introducing a panel discussion featuring the Kenyan High Commissioner, the Ugandan Deputy High Commissioner, and a representative from the Department of Foreign Affairs and Trade, who spoke on why Africa and Australia are important to each other. As I told the group, I feel we are on the cusp of a new era in partnership and collaboration between Africa and Australia and strongly believe that education can play a central role. I am passionate about UNSW's growing engagement in Africa and look forward to travelling to Uganda in a couple of weeks' time to connect with our partners at Gulu University.
I was also glad to have the opportunity to attend the Go8 Sustainability Forum recently. The meeting brought together environmental officers from each of the Go8 universities to discuss sustainability initiatives on our respective campuses and identify areas of collaboration and knowledge sharing. I am proud of UNSW's leading role in this space, with our solar power purchase agreement with Maoneng Australia and Origin Energy set to supply our campuses with 100 per cent renewable, zero carbon energy by 2020. It is heartening to see many of our Go8 counterparts following suit.
Congratulations to Associate Professor Kama Maclean, who has been elected to the Australian Academy of the Humanities. This is the highest honour for achievement in the humanities in Australia and a reflection of her respected work on the history of modern India and imperial and transnational history. Congratulations also to Scientia Professor Rosemary Rayfuse, from UNSW Law, who has been elected a Fellow of the Academy of the Social Sciences in Australia. This is another high honour and reflects Rosemary's world-leading contributions to environmental law. Well done also to Professor Jill Bennett and everyone who was part of delivering The Big Anxiety festival last year. The festival was recently announced as Best New Event at the Australian Event Awards and Symposium.
Best wishes
Ian
Comments