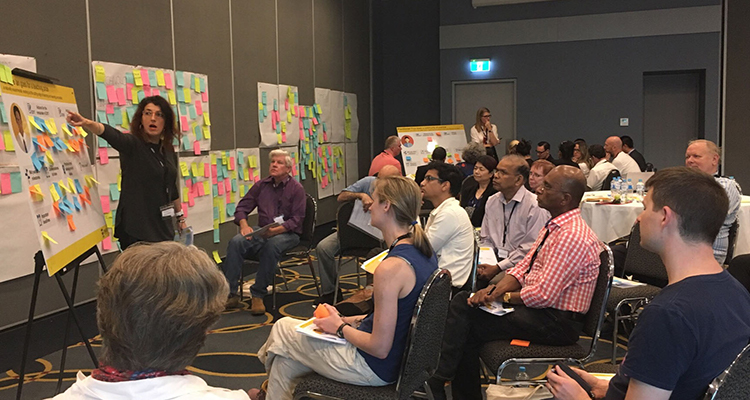 A range of pilot leadership development programs have been introduced over the past year, aimed at supporting and developing our UNSW leaders to realise their full potential.
The programs, introduced by the UNSW Capability and Development team, have been designed to support and develop leaders at all levels to help UNSW build its internal capability to fulfil the 2025 strategy goals and beyond.
Orion and Carina Programs
Two new pilot programs commenced in early 2018; the Orion Leadership Program, designed for high performing UNSW senior leaders; and the Carina Leadership Program, designed for high performing future UNSW senior leaders.
Both programs involve group workshops and individual coaching. Collaboration activities are a central component with real-world strategic challenges that participants are encouraged to approach with fresh perspectives and foster an environment of innovation. The programs also provide participants with a fantastic opportunity to expand their networks with other leaders across UNSW.
Both pilot programs will conclude in early February. Click here to find out more about the Orion and Carina Programs.
Leadership Excellence and Development (LEAD) Program
The LEAD Program is a new leadership development offering currently being piloted. The Program, delivered in partnership with AGSM, aims to support leaders in their roles and uplift leadership capability broadly across UNSW.
The pilot program includes three learning modules and has involved 30 participants from both academic and professional backgrounds. The program uses a mix of learning media, including online learning, face to face workshops, work-based activities and short assessments, and is further supported by optional online materials and peer-to-peer mentoring.
In 2019, the course will be expanded to a wider audience initially with four modules available. On completion, participants can use the program to contribute towards AGSM's Certificate in Executive Management and Development.
Horizon
In June last year we announced the Horizon Program in partnership with KPMG. The Program focuses on providing talented employees with opportunities to broaden their experience through cross-functional and industry experience and professional leadership education.
As part of the pilot program, the six applicants – three from UNSW – embarked on the accelerated development of their professional skills through a mix of formal learning in general management; 360° assessment and coaching of their leadership behaviours; and various secondments. Click here to learn more about the participants from UNSW.
As the Horizon pilot program comes to a close, UNSW will be assessing opportunities to continue the program in 2019.
More information
For more information on these and other staff development opportunities at UNSW, we have recently launched the UNSW Staff Learning Portal; a new site that brings staff development offerings currently available across UNSW Faculties and Divisions together in one place.
Staff will be able to browse and discover a range of high-quality offerings currently available across UNSW, making it easy for staff to enrol, find out more, or contact the organiser.
Comments