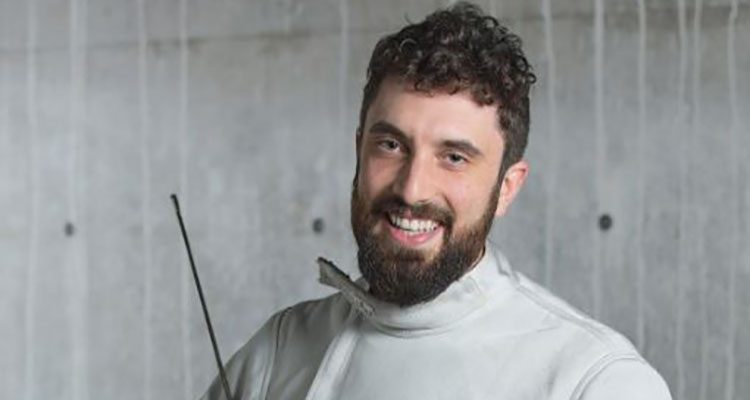 In an unusual but successful combination, BABS Scientia Fellow Dr Matthew Baker excels at international fencing while staying on top of his research priorities.
Scientia Fellow Dr Matthew Baker thrives on the challenge of finding balance between research and fencing. He also finds it enhances his own output. "When I'm not fencing, my performance as a researcher drops. I'm less alert and less motivated. Sport creates a space where I can go and concentrate intensely on something else. [Rather than being a distraction,] that focus then translates into a better research commitment."
A researcher in Science, Matt recently won New Zealand National Championships in men's Épée (a duel where points are scored by the first person to touch the tip of their blade on any part of an opponent's body) and this week he competed with the New Zealand team in the Commonwealth Fencing Championships in Canberra. They competed valiantly and lost a close match to India, coming fifth overall.  
Matt has been fencing at an international level for nearly two decades, and has had the honour of representing Australia and New Zealand. As well as being a national champion for New Zealand, Matt represented Australia and was ranked as high as third in the nation. He's been the Irish National Champion, the NSW State Champion, and won gold in an Australian Fencing Federation National Tournament.
Matt is also a Scientia Fellow and Lecturer in the School of Biotechnology and Biomolecular Sciences.  His research uses pioneering methods in synthetic biology to template and shape the assembly of one of the pinnacles of evolution: the bacteria flagellar motor, an electric motor a millionth the size of a grain of sand that can build itself and rotate five times faster than a Formula 1 engine. He has two distinctive research areas: one focuses on engineering this motor to understand how it has evolved, the other on building biology one component at a time. 
"My type of research is constant – it spans decades and you are always working towards your next grant, your next breakthrough. Fencing is seasonal and the only thing that really matters is winning." says Matt. "Fencing is hard, you are always up for defeat," he adds. "Being a scientist is more subjective, it's collaborative."
Matt's Scientia Fellowship has given him a career path in Science, but he's also found flexibility to fence on the side. "Currently I travel internationally for about two weeks a year with fencing [to the Asian and World championships]. I normally only fence two days a week plus conditioning. But when I prepare for a competition, I need to fence at least four times a week, so I'm careful what I commit to. By finding a balance between the two, I still get the adrenalin from competition but I can focus on my research."
Matt stresses that research comes first and fencing second: "Fencing doesn't pay me anything! With the Scientia Fellowship, I'm in a position where I have security and a career progression. It's up to me to make sure I reach my research goals."
And what are these goals? By looking at the evolutionary process of the bacteria flagellar motor, Matt wants to create a "microbial Jurassic Park" with ancient hybrids. His team resurrects ancient bacteria in order to see how they evolve in competition with each other. This allows them to examine the process of evolution as it happens in order to try and engineer new outcomes to make motors that are powered by different energy sources.
Matt's second goal is to build networks of synthetic model tissue that can replace animal testing in research. He examines applications of in-vitro chemical/synthetic biology to make artificial cells, mixing ingredient by ingredient to make a lipid bilayer – a cell wall.
Is Matt's next goal the 2020 Olympics in Japan? "No," Matt says, laughing. "I do need to prioritise my family and research, so I can't commit to the time it would take to have a chance of meeting the qualification criteria. But I'd love to make the Asia Championships in Japan next year. That competition is the test event for Tokyo2020, so it should be a real spectacle."
"It intersects well with my research and strong collaborations in Japan, so it helps both to give it a shot." We wish Matt the best for both as he finds his balance and excels as researcher and Épée champion.
Comments