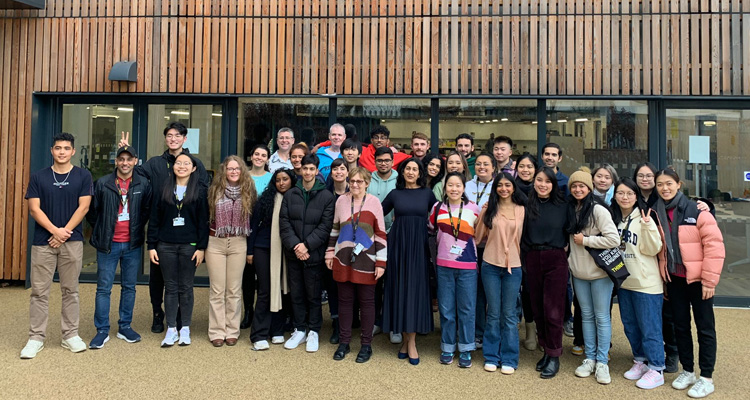 Thirty students from UNSW Sydney recently travelled to London to participate in a three-week program at The Engineering & Design Institute London (TEDI-London).  
TEDI-London is a new higher education provider specialising in engineering. Twice a year, they offer a program to UNSW students across all faculties, providing them with a chance to study in London.
This year, the winter student cohort tackled the topic of 'the right to repair', with the goal of reducing electronic waste (e-waste) to promote the circular economy. They wrapped up their time with a community repair event on campus in partnership with Restart, a social enterprise based in London. With support from TEDI-London staff and industry experts, the repair initiative was organised by the university students themselves, a first for a Restart partnership. 
"This opportunity allowed me to forge connections with like-minded peers, challenge my engineering skills and further my personal development in a new environment," said Software Engineering Honours & Biomedical Engineering student Jaipreet Jagal. 
As part of the event, members of the community arrived on campus with their slow or damaged small electrical devices and appliances. The issues were diagnosed and, where possible, fixed by TEDI-London students working alongside their teaching technicians and local, tech-savvy volunteers. The goal was to encourage attendees to restore their electronic items and minimise the amount of e-waste they produce.
The students learnt about the importance of circular design principles and economy, as well as understanding the financial and logistical implications of implementing an initiative. They could develop a well-rounded events business plan that facilitated repairs for the community, encouraged community engagement, educated new repairers, and made use of unrepairable items to further reduce e-waste. 
This resonates with the aim of TEDI-London's founding partners under the PLuS Alliance partnership – UNSW, Arizona State University (ASU) and King's College London – to educate up-and-coming engineers through projects that make a real-world impact.  
By leveraging their own knowledge around the circular economy alongside their practical repairing skills, the students diverted seven electrical items from landfill at the launch event alone, a saving of 26.8kg in carbon emissions. 
"This was a highly challenging and rewarding experience," said Civil Engineering student Elise Hillier. "Throughout the three weeks I was able to develop and work on my four goals: critical thinking, resilience, patience and flexibility. I also developed skills that will be important in my career and beyond."  
This is the fifth year the program has been offered through a collaboration between UNSW Alliances, UNSW Work Integrated Learning (WIL) Central and TEDI London. 
If you are interested in learning more about the program, contact: James Meade, Head of Employability, at james.meade@unsw.edu.au   
Comments