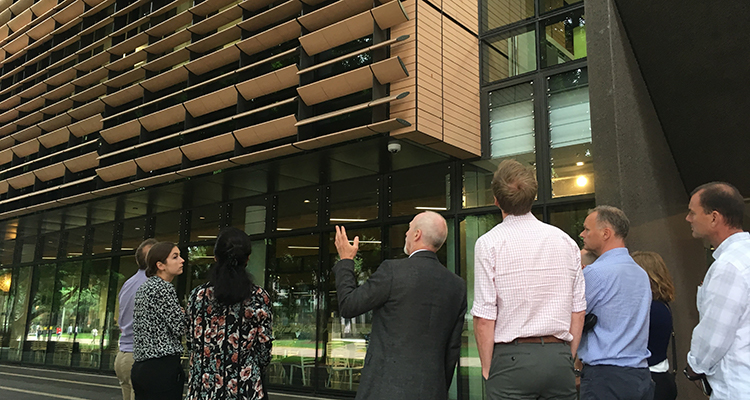 Biannual forum brings together Group of Eight to support the common goal of environmental sustainability.
Sustainability leaders from the Group of Eight (Go8) universities came together for a two-day forum to collaborate on sustainability initiatives and learn from each other's experiences.
The biannual forum was held across UNSW and University of Sydney earlier this month. It included Australian National University, University of Adelaide, University of Melbourne, Monash University, University of Queensland, University of Western Australia, University of Sydney and of course, UNSW.
UNSW President and Vice-Chancellor Professor Ian Jacobs, who is also Chair of the Group of Eight, opened the forum with an inspiring outline of UNSW's values and commitment to a sustainable future:
"Everything we do must answer the question: 'How are we improving the world which we inherited and making it better for the generations to come?'" he said.
Professor Jacobs affirmed the need for universities to lead by example through exploring and implementing sustainable initiatives on their own campuses.
"It is now more important than ever that universities lead, as a voice of reason, in this space. It is important that we lead with action to minimise our environmental footprint," he said.
A key part of the 2025 Strategy, Professor Jacobs revealed UNSW is well on the way to reaching our renewable energy targets, confirming that "by 2020, our campuses will be supplied with 100% renewable, zero carbon energy." 
Executive Director of Estate Management Jeff Peers and Senior Manager for Environmental Sustainability William Syddall spoke about UNSW's recent sustainability initiatives including the expansion of the stormwater capture system, the food waste collection system, reverse vending machine and the Tesla Battery Storage project. Energy Manager Nick Jones spoke about UNSW's exciting new Solar Power Purchasing Agreement.
The Go8 forums have an emphasis on supporting each other and working together for the common goal of environmental sustainability.
The day's formalities ended with a tour led by Nick Jones of the Tyree Energy Technology Building, UNSW's most environmentally-friendly building with a 6-star Green star Design rating. Visitors were taken through some of the features of the building which contribute to its rating, such as natural cooling systems and solar-panelled roofing.
The UNSW Environmental Sustainability Plan 2019-21 is currently being finalised. Stay tuned for more information in early 2019.
Comments