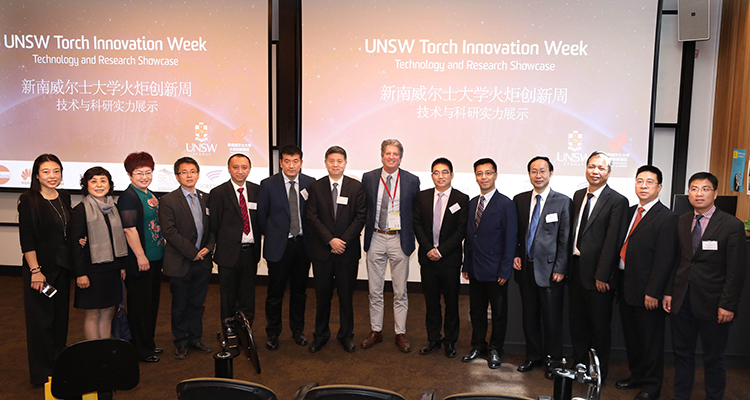 The Kensington campus recently hosted Torch Innovation Week, which was attended by over 150 guests from across industry, academia and venture capital.
It's been more than two years since UNSW and the Chinese Ministry of Science and Technology signed an agreement to establish the state-of-the-art Torch Innovation Precinct at UNSW Sydney, cementing the University as a premier destination for research, development and innovation.
In celebration of this milestone, UNSW's Kensington campus hosted the Torch Innovation Week from 30 October to 2 November. 
Activities for those attending throughout the week included themed business matching workshops and plenary session delivered by UNSW world-renowned researchers; an innovation and advanced technologies showcase; opportunities to network and connect with start-ups, researchers and talented students; as well as tours of our state-of-the-art UNSW research facilities.
The week culminated in a celebratory gala dinner where President and Vice-Chancellor Professor Ian Jacobs praised the Torch Innovation Precinct as a place that is "fostering a culture of innovation, entrepreneurship and partnership that is imperative if we are to effectively translate our research into real-world impact."
The event was led by the Division of Enterprise's Knowledge Exchange team. The team worked tirelessly to promote UNSW research and connect UNSW academics and their research with external industry partners. These spanned energy, water and environment, advanced materials, advanced manufacturing, ICT, bio-technology and life sciences, and social policy with the purpose of future collaboration.
Since the Torch partnership began, UNSW has signed over $60 million worth of contracts with 42 Chinese partners. An additional $140 million worth of contracts are under discussion.
The Torch Innovation Precinct is part of a University-wide initiative to unite academia, industry partners and investors in order to address the global challenges faced by society. In doing so, the aim is to establish an innovation ecosystem to rival any in existence within Australia today.
Comments