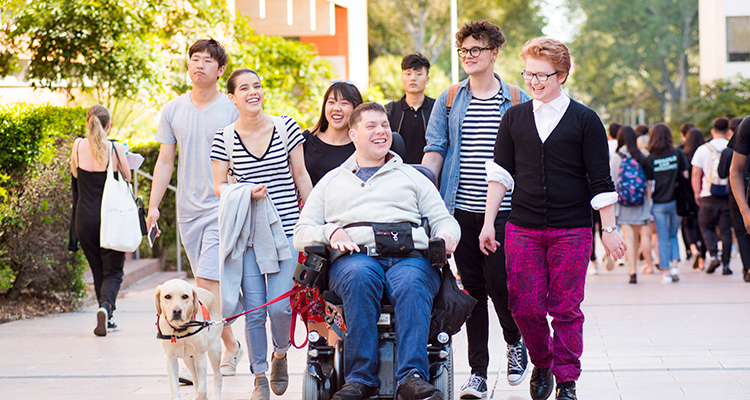 Following extensive engagement with the UNSW community, key priorities have been identified to make the University more inclusive and accessible for all.
UNSW launched its Disability Inclusion Action Plan 2018-2020 (DIAP) in June this year. The Plan delivers a framework to provide equal access across UNSW to ensure all students and employees can achieve to their highest potential.
Since then, a cross-University working group has been working hard to identify solutions to make UNSW more inclusive and accessible, to be implemented between 2019 and 2025.
Enlisting the help of external consultancies Funktion and Today, which specialise in access and inclusion design, the working group has spent the last few months reviewing feedback from surveys, face-to-face interviews and case studies to better understand the concerns and challenges for people with disability. This data will help inform the prioritisation of actions the University will undertake as part of the DIAP.
More than 270 students, employees and external support staff participated in surveys, interviews, focus groups, shadowing and journaling activities. From the data compiled from UNSW staff member responses, 10 key areas for improvement were identified:
Leadership: Improving awareness and understanding of the needs of people with disability across executive and senior level management 
Organisational culture:  Fostering an organisational culture that is inclusive, flexible, accommodating and welcoming 
Inclusive consultation:  Ensuring consultation with employees with disability in a meaningful and ongoing way to inform the planning and design of workplace solutions 
Specialised employee support: Introducing an employee support advocate, separate to HR, to assist in arranging workplace adjustments 
Workplace flexibility: Flexible work arrangements are promoted and the organisational culture supports workplace flexibility and flexible working hours and locations are supported by systems and processes 
Attitudes and behaviours: Changing people's attitudes around diversity and inclusion in the workplace  
Employee training: Employees are aware and knowledgeable about disability issues and attend disability confidence training.  Induction of new employees includes a component on disability, access and inclusion practices. 
Access to information: Information is easily accessible for all employees regarding the availability of reasonable workplace adjustments and support services  
Workloads and time pressures: Support is in place to help staff more effectively manage workloads and time pressures including managers capability to support employees with disability 
Workplace accessibility:  Consideration is given to accessibility of buildings, toilet facilities, employee amenities and infrastructure through renewal programs, upgrades and new capital projects and event venues 
Stay tuned for more updates in 2019 as work begins in earnest on bringing the DIAP to life.
International Day for People with Disability
Monday 3 December 2018 is International Day for People with Disability. To help make UNSW a more inclusive and accessible environment, Workplace Diversity in conjunction with the Australian Network on Disability is running Disability Confidence Training on Tuesday 11 December. You can register here.
More information on Disability@UNSW is available on the website.
Comments