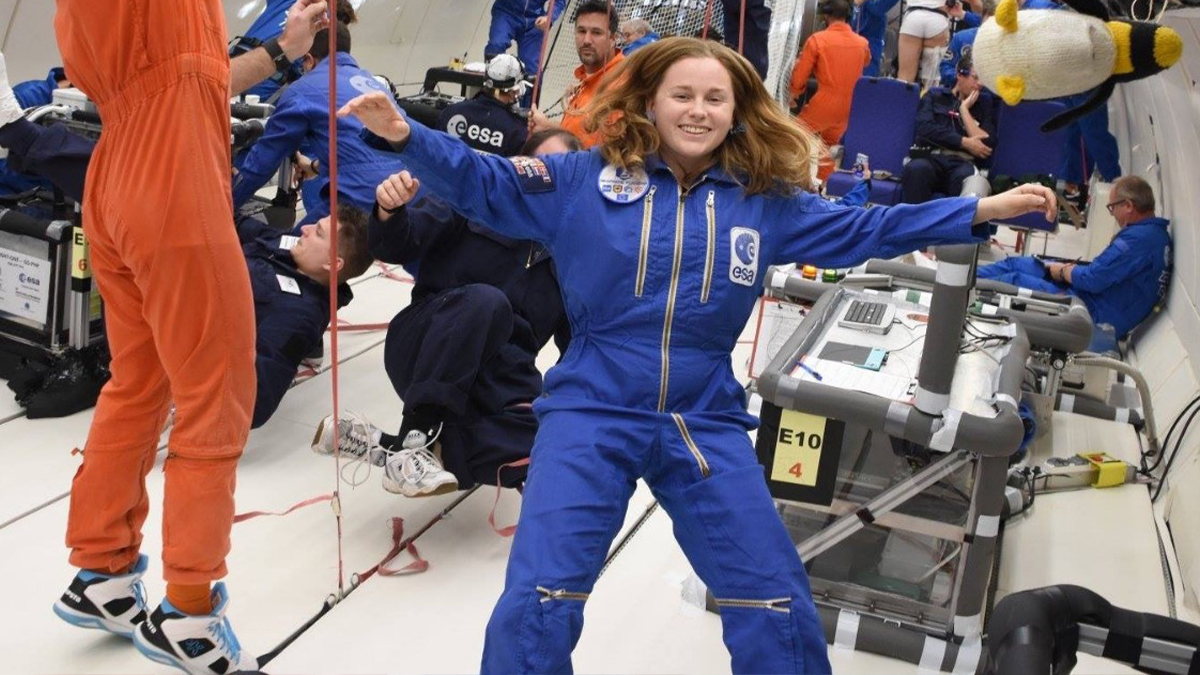 Dr Meganne Christian has been selected as a trainee astronaut for the European Space Agency from more than 22,500 applicants.
A UNSW Sydney alumna has become Australia's first female astronaut after being selected to join the European Space Agency's (ESA) new class of trainee astronauts that will focus on the construction of an outpost orbiting the moon, as well as missions to the moon's surface. 
Dr Meganne Christian is among a group of 17 astronauts - including five career astronauts, 11 members of a reserve pool of astronauts and one astronaut with a physical disability - announced as the ESA's third generation of European space farers.
She will represent the United Kingdom, having been born there and holding citizenship. She is also a citizen of Australia, Italy and New Zealand.
Dr Christian will become a member of the astronaut reserve and start a 12-month basic training at the ESA's European Astronaut Centre in 2023.
She said it was a surreal feeling when she got the call informing her of the selection.
"It's something I've been working towards for a long time," Dr Christian said in an interview with the ESA.
"Being able to advance research in these highly technological fields (and) putting forward important scientific research. I think every kid wants to be an astronaut - it started back when I was a kid as well," she said.
Dr Christian is a materials scientist and atmospheric physicist. She came to Australia when she was five years old, and in 2009 graduated from UNSW with a Bachelor of Engineering and received the University Medal in industrial chemistry. In 2014 she received her doctorate from UNSW for research into hydrogen storage.
UNSW Vice-Chancellor and President, Professor Attila Brungs said it was privilege to see one of the University's alumni achieve such unique success.
"We are enormously proud of Meganne and wholeheartedly congratulate her on this prestigious appointment," Prof. Brungs said. "She is an inspiration to future scientists and has really shown us the sky's the limit."
The Minister for Industry and Science Ed Husic congratulated Dr Christian on behalf of the Australian Government and all Australians on her incredible achievement.
"Dr Christian's selection is further evidence of the extraordinary scientific talent that we generate through our education and university system here in Australia," he said.
"We know we need more young Australians, particularly women and people from diverse backgrounds, to enter the STEM workforce. Role models like Dr Christian will help show girls and young women that they can dream big.
"Space programs are so much more than taking 'giant leaps', as inspiring as they are. Much of the work that is done by astronauts is on applied space medicine and science, which supports Earth-based research applications, advancing health, engineering and sustainability."
Dr Christian currently works at the Italian National Research Agency and has also served as a winter-over scientist at the Concordia station in Antarctica. For these expeditions, Dr Christian was trained in firefighting, medical aid, rescue, and survival in extreme conditions. She participated in biomedical research run by the ESA and various public activities to report about her experiences and activities during the winter. 
As a reservist astronaut, Dr Christian will retain her day job but will receive a consultancy contract and astronaut training from the ESA.
The space agency has been closely involved with NASA's Artemis mission to put humans back on the moon, and it hopes that the first European to set foot on the moon will be among this class of astronauts.
Comments