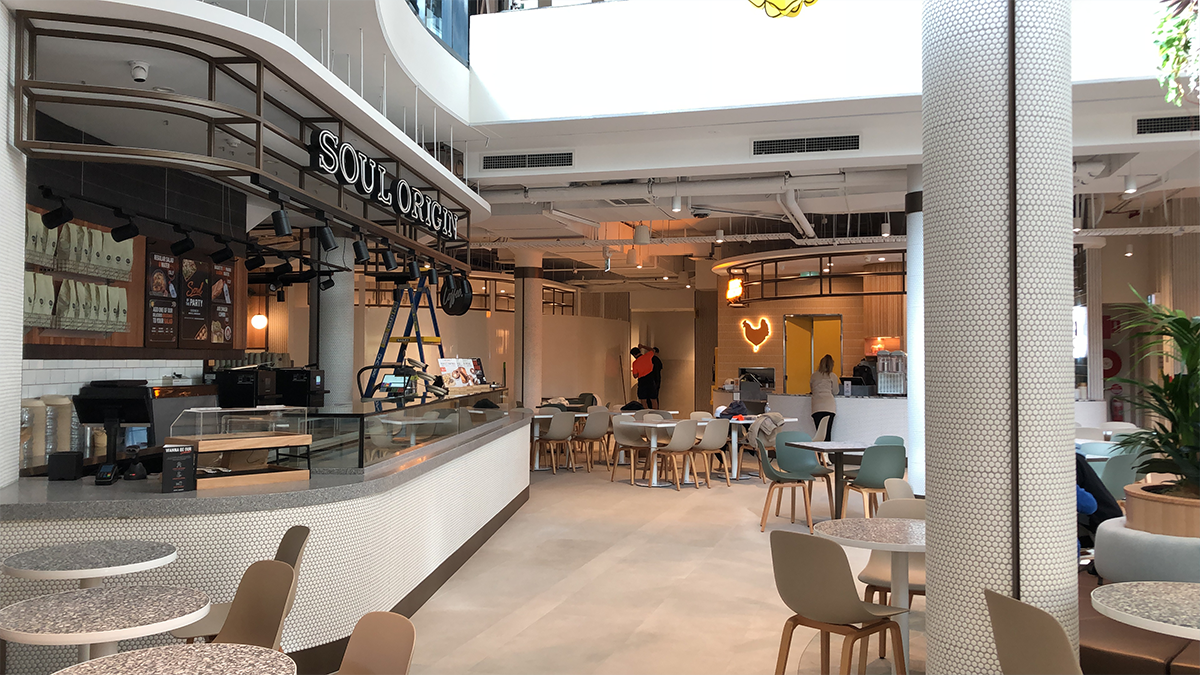 The Quadrangle Food Court is now a revitalised, colourful, social destination at the heart of the Kensington campus.
The Quadrangle Food Court is an integral part of culture and community at UNSW. The upgrade, completed on Monday 29 May, has transformed the food court into a bright and bold space to serve the whole UNSW community.
You can visit the upgraded space to socialise, relax, and recharge. Explore a variety of new delightful contemporary food offerings in invigorated casual dining space that connects the upper and lower floors through the vertical light-filled loft.
Visitors can enjoy offerings from Nene Chicken, Papa Rich, and Soul Origin, with more food and beverage retailers coming soon. The food court features bold artwork created through engagement with students, a space that reflects the vibrant spirit and creativity of our student body.
UNSW Chief Property Officer Tim Beattie said, "Estate Management is pleased to be transforming the Quadrangle food court to enhance the student experience and provide an attractive retail and social destination on campus."
"This initiative, led by the Estate Management team, has transformed a worn-out and underutilized area into a bold, modern, and vibrant hub that will be a central location for all staff to enjoy."
Sustainability was a key consideration in the development of the new Quadrangle Food Court. With the engagement of new waste and sustainable services, Estate Management have taken steps to ensure better outcomes for waste disposal and ongoing student initiatives.
Accessibility was considered across all elements of the design, from legibility of the logo to inclusive ordering spaces and seating, inside and outside. Inclusion is being championed with the choice of new all-gender bathrooms which will be available soon.
Other new facilities include communal indoor seating, shaded balcony seating and outdoor dining at the vibrant heart of our campus. The internal and external seating areas have been refreshed so the space can be enjoyed all year round.
Visit the Quadrangle food hub web page for more information.
Comments