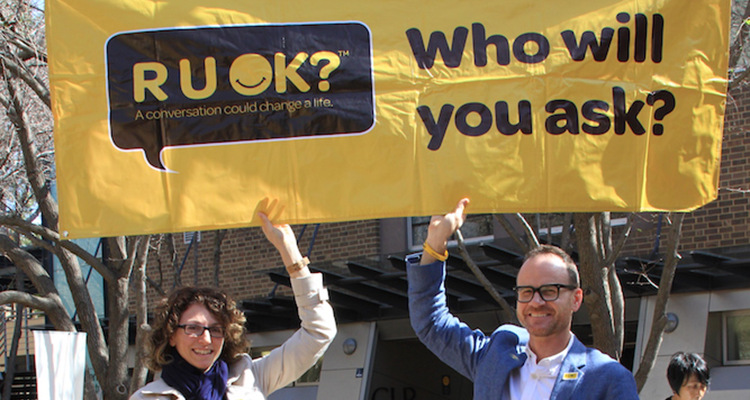 On Thursday 8 September, UNSW will be offering a range of events and initiatives, both in-person and online, to celebrate the day.
R U OK? Day is a national movement that encourages people to stay connected and have conversations that can help others through difficult times in their lives.
---
On campus events:
Mathews Pavilions activation
Join us at the Mathews Pavilions between 10am and 2pm to place a note on the Gratitude Wall, meet with Benestar representatives or enjoy a free massage from a massage therapist.
Free coffees
Invite a colleague for an 'R U OK?' chat and enjoy a free coffee from Caffe Brioso or the Fitness & Aquatic Centre Café. Both are generously providing 100 free coffees as part of a two-for-one offer.
Registration is essential. Click here to register for the offer from Caffe Brioso or click here to register for the offer from the Fitness & Aquatic Centre Café. You'll need to provide a printed copy to claim the offer. 
In addition, The Lounge is also offering two-for-one coffees on R U Ok? Day. You can find out more here.
Free massages
Free massages will be available on R U OK? Day from professional massage therapists, in the following locations:
Mathews Pavilions, Kensington Campus
UNSW Bookshop, Kensington Campus
UNSW Fitness & Aquatic Centre Café, Kensington Campus
Paddington Campus: Elwyn Lyn Conference Centre ( ELCC)
To enjoy a free massage, visit one of the above locations between 10am and 2pm. 
---
Online events:
Town Hall
At 2pm on Thursday 8 September, the Division of Operations will be hosting a Town Hall with R U OK? Community Ambassador Kailash Sarma. Kailash is a TEDx speaker, Co-Founder of the Academy of Speakers and Chair of the RUOK? Youth Advisory Board. 
Following Kailash's keynote, there will be a presentation by Helen Moussa from Benestar, outlining the services which are available to all UNSW staff and their family members under our Employee Assistance Program (EAP). 
Registration is essential – click here to register. Click here to submit questions via slido.
Virtual Gratitude Tree 
Click here to access the Virtual Gratitude Tree and place a 'sticky note' telling others what you're grateful for this R U OK? Day. 
Virtual backgrounds
Show your support in the lead-up to R U OK? Day by using a banner in your emails or changing your virtual background in Teams and Zoom meetings. Click here for R U OK? resources.
Suicide Prevention Training
UNSW currently provides suicide prevention training to staff and students. The Recognise and Respond: Suicide Prevention for Everyday Life course from the Black Dog Institute will help you feel confident in responding and providing support to a friend, family member or colleague who might be at risk of suicide. Recognise and Respond is a self-paced online course which takes approximately one hour to complete.
To access the course, click here and you will need the following access code: W7cXVGa6EjBS5WYHUmh3
Comments