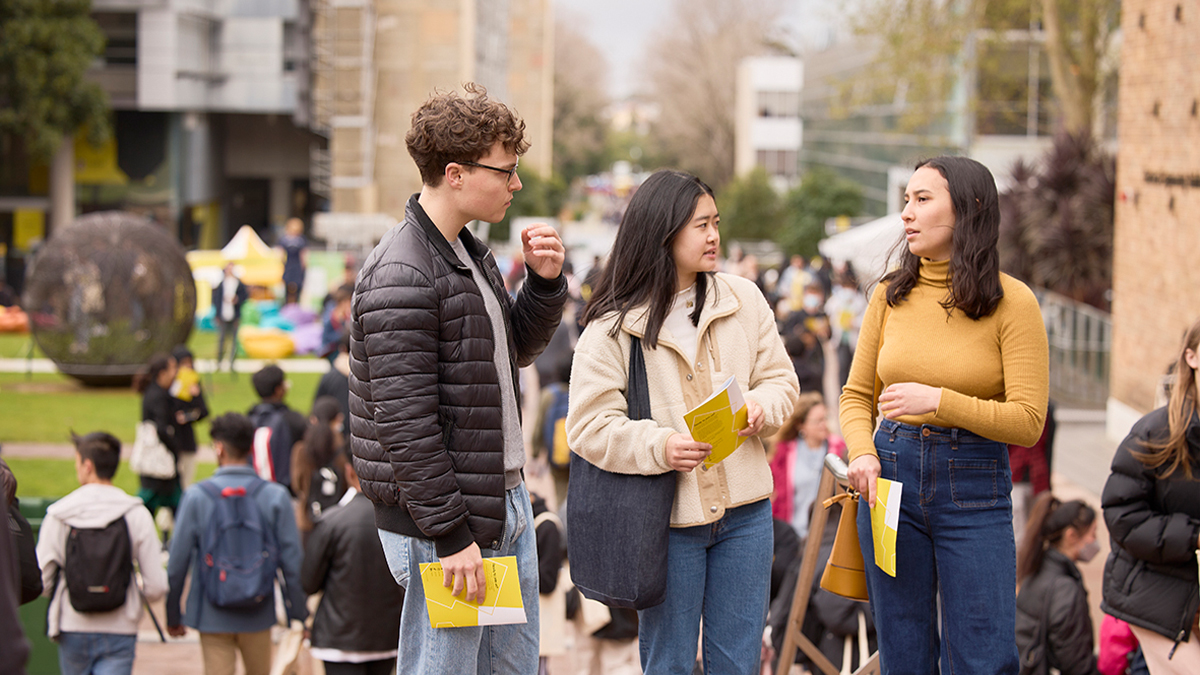 More than 35,000 people visited our Kensington and Paddington campuses during Open Day 2022 to learn about our vibrant UNSW communities and world-class facilities.  
After a two-year hiatus, Open Day was back in person with an estimated 35,000 people attending. The inclement weather didn't hold back prospective students and families visiting UNSW, with campus buzzing with activity. The Future Students Office confirmed there were over 17,000 unique digital registrations – double last year's digital Open Day registrations.
Both Paddington and Kensington campuses were busy with faculties showcasing highlights and all that UNSW has to offer prospective students. Campus tours were popular, as were the immersive experiences across the faculty advisory zones. There were over 100 lectures and behind-the-scenes tours on offer throughout the day.
UNSW Sydney Vice-Chancellor and President Professor Attila Brungs attended his first Open Day since joining the University earlier this year.
"Despite the weather threatening to interrupt events, it was a fantastic day and such a joy to see so many visitors taking the opportunity to explore our campuses and learn more about the University," Professor Brungs said. "Open Day is always the most exciting day in the University's calendar. It takes the commitment and dedication of our outstanding academics, staff, and current students, as well as hundreds of volunteers, to bring it all together. I thank everyone who made the day a roaring success."
Over 1,100 staff and current students were on hand to answer wide-ranging questions from admissions and degrees to clubs & societies and campus life in general. For the first time, UNSW expanded the Open Day audience to also encapsulate prospective postgraduate students and our alumni community.
Festivities also included large-scale thought leadership activations, including the Mission for Earth Habitation which highlighted UNSW's commitment to contributing to societal issues for Gen-Z audiences. The Hall of Fame showcased UNSW's proud legacy of producing outstanding alumni that help solve some of the greatest challenges facing humanity, while also serving as inspriation to prospective students to follow their passions.
The strong participation and interest in the 2022 Open Day signals a strong outlook for the University's 2023 Term 1 intake, with lots of market interest by school leavers and the broader community.
Comments