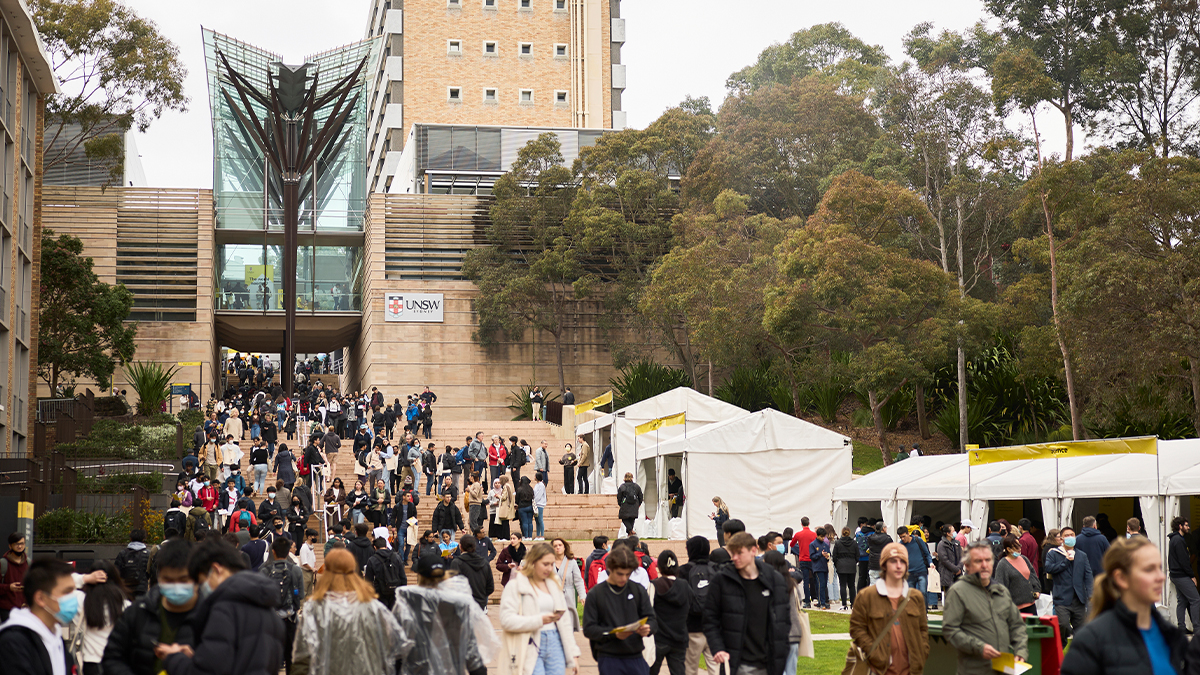 Dear colleagues
There is certainly a welcome hint of spring in the air after a cold, wet winter that had the added spectre of COVID keeping the number of people on campus down. While remaining conscious of our commitment to a COVID-safe campus and our flexible work policy, we want to see UNSW continue to return to the vibrant place we know it can be. As I walked around Open Day on Saturday (read on for more about that wonderful day), I was reminded that the quality of the student experience is directly related to our students' feelings of connection – to their University, their peers and their teachers. Face-to-face interactions and having a critical mass of people on campus are important elements of a lively, welcoming environment, such as we're enjoying with all the T3 O-Week activities happening at the moment. This is just as true for students as for our colleagues. I urge everyone to consider how we can all contribute to activating our campuses.
Lots more to talk about so let's look at the fortnight that was.
UNSW throws campus Open Day
Open Day on Saturday was incredible. Despite less than perfect weather, the campus was absolutely buzzing. We estimate that more than 35,000 people visited the Kensington and Paddington campuses in person, with another 17,000 registered digital attendees (twice last year's registrations). The cohesiveness of the theme across Open Day, connecting study choice to purpose and impact, was not only a spectacular way to showcase our world-class University to prospective students, their families and friends, but to demonstrate why it really matters.
Open Day is a massive undertaking. My heartfelt thanks to everyone across the UNSW community who made Open Day such a roaring success. Thank you to the more than 1100 students and staff who hosted tours of campus, gave Faculty presentations, and fielded questions big and small.
Thank you, thank you, thank you.
This was also the first time our Open Day actively included prospective postgraduate students and our alumni community, too: a true demonstration of the breadth of our offerings and community connections.
With such a plethora of impressive activities and stalls it is almost impossible to highlight any. But I must say the Earth Habitation Mission in the Esme Timbery Creative Practice Lab was both jaw dropping and mind opening. And, I loved the School of Chemistry using the time honoured tradition of dry ice bubbling merrily in coloured water to attract attention.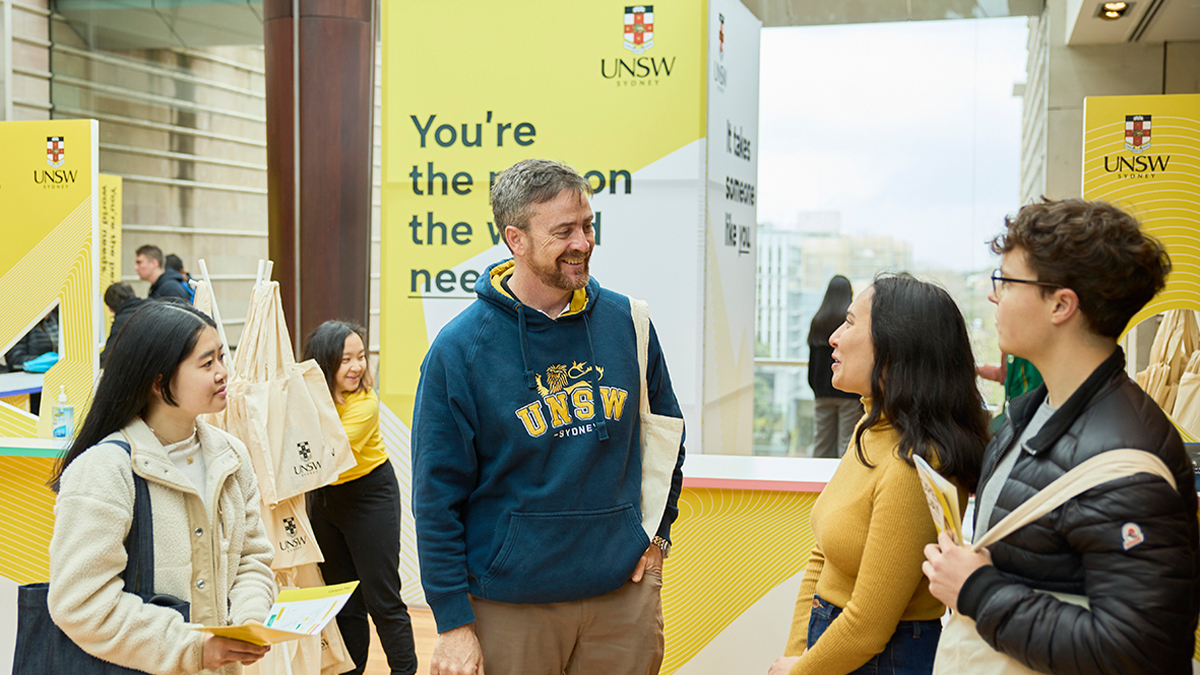 'Mentem by UNSW' captures the moment
I am very excited about the launch of 'Mentem by UNSW' and my recent interview on the topic in the Australian Financial Review has certainly garnered a lot of interest in the initiative. The Mentem team works with organisations to provide learning programs and training and coaching, incorporating formal education from UNSW expertise, to support the long-term sustainability of jobs and businesses.
Mentem has already worked successfully with the Department of Regional NSW on a Digital Literacy Upskill Program; mental health organisation SANE Australia on a Data Analytics Upskill Program; and Suncorp on a Business Process Modelling Reskill Program. The ability to apply the Mentem model across a range of businesses is timely, given the global and local disruption to so many industries. This is yet another great example of UNSW responding to the changing needs of society, which is at the heart of our lifetime learning focus.
Congratulations to UNSW Provost, Professor Anne Simmons, UNSW Business School Dean, Professor Chris Styles, and Mentem CEO, Arvind Sampath, for leading the project.
Read the article in the Australian Financial Review (available via subscription).
Student Experience Survey – now open
The annual, national Student Experience Survey (SES) for undergraduate and postgraduate coursework students is now open.
The SES is the single-best way for UNSW to learn what students think about their overall experience of our University. The insights we gain from the SES are important in helping us to understand what's working well and what we learn to enhance our programs and student experience.
On the Teaching Gateway there's a range of resources teachers can use to encourage students to complete the survey. Students can access the SES through the email they receive from SRC, or via Moodle.
The SES closes at midnight on Sunday 9 October. Let's continue to ensure UNSW students that their voices matter and spur them on to take the survey.
Eureka moment for UNSW colleagues
Please join me in congratulating our UNSW colleagues who took home four awards at the 2022 Australian Museum Eureka Prizes – one of the most sparkling nights in Australia's science and research calendar.
Professor Raina MacIntyre (Kirby Institute), won the Eureka Prize for Leadership in Science and Innovation.
Scientia Professor Veena Sahajwalla (UNSW Science), won the Celestino Eureka Prize for Promoting Understanding of Science.
PhD candidate Casey Kirchhoff, Dr Mark Ooi, Associate Professor Will Cornwell, Professor Richard Kingsford and PhD candidate Thomas Mesaglio (Environment Recovery Project, UNSW Science and the German Centre for Integrative Biodiversity Research) won the Department of Industry, Science, Energy and Resources Eureka Prize for Innovation in Citizen Science.
The Garvan Institute of Medical Research is part of the group 'NanoMslide', including La Trobe University, University of Melbourne, and Peter MacCallum Cancer Centre, that won the ANSTO Eureka Prize for Innovative Use of Technology.
These well-deserved and prestigious awards are a tremendous credit to our colleagues. Find out more about their winning research.
Suicide prevention training available
I draw your attention to an important program being run by UNSW Health in partnership with the Black Dog Institute. Recognise & Respond: Suicide prevention for everyday life aims to equip people with the knowledge to identify a person who is contemplating suicide and the tools to intervene. With suicide the leading cause of death for people aged 15–44 in Australia, I encourage all UNSW staff to consider undertaking this free training.
Queen's Birthday Honour for Director of UNSW's India Office
I am pleased to acknowledge another esteemed member of the UNSW community who has received a Queen's Birthday Honour, joining the distinguished company of colleagues and alumni upon whom national honours have been bestowed this year.
(Queen's Birthday Honours | Australia Day Honours)
I was delighted to hear that great friend of UNSW, Amit Dasgupta, was made an Honorary Member in the General Division of the Order of Australia (AM) in the Queen's Birthday Honours. The award was 'For service to the Australia-India bilateral relationship'. It was during his time as Consul-General of India in Sydney that Amit oversaw the installation of the Mahatma Gandhi bust and instigated the annual Oration in this great man's name. He remains a staunch advocate for UNSW as our Director of UNSW's India Office. I'm sure the UNSW community joins me in congratulating Amit and expressing our gratitude for his ongoing support.
For congratulations and calendars…
Once again, there are more accolades and events than I can cover substantially in one newsletter, but please join me in acknowledging wonderful feats and diarising notable events including:
There are plenty more wonderful achievements to read about in this edition of Inside UNSW.
In closing today, a reminder that tomorrow, Thursday 8 September, is R U OK? Day. I warmly encourage you to get involved in the special program of events that UNSW is hosting to mark this important day of conversation and connection.
Best regards
Attila
Professor Attila Brungs
Vice-Chancellor and President
Comments