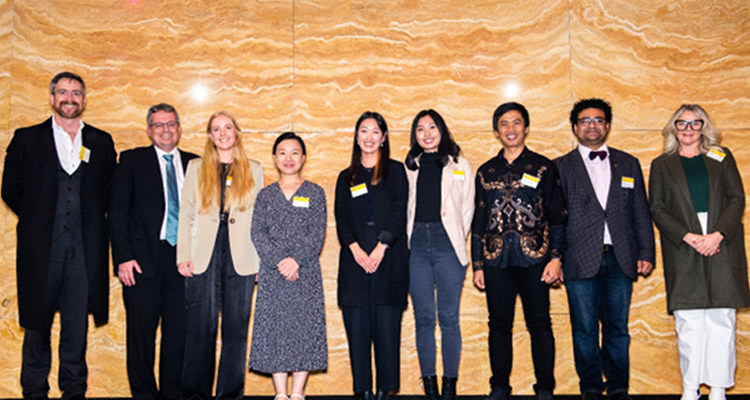 Scientia PhD candidate Merryn Baker wowed judges with her talk on diagnosing lung disease through breath analysis.
UNSW Sydney's most exciting doctoral research was on display at the UNSW Three Minute Thesis (3MT) Finals. Eighteen PhD candidates were given just 180 seconds – and a single Powerpoint slide – to explain their research and why it is important to a public audience.
This year's presenters explored new frontiers in health, education, law and justice, engineering and business. The judges – internationally acclaimed physician-scientist Dr Sonu Bhaskar, innovator and strategist Zina Kaye, and UNSW Vice-Chancellor and President Professor Attila Brungs – had  the difficult task of selecting a winner.
"I have been involved in the 3 Minute Thesis Competition for over 10 years, and this is the best 3MT I have ever seen," said Professor Brungs. "The quality and passion were inspiring."
Merryn Baker (Science) ultimately stole the show with her talk on developing a new non-invasive way of diagnosing lung disease through the analysis of the chemicals in our breath.
Diseases like cancer have been shown to change the concentration and type of chemicals in our breath. But isolating these chemicals is like searching for one drop of water in an Olympic swimming pool. Through her winning 3MT presentation, Baker explained how she is developing materials that can act like a net to capture the molecules produced by lung cancer, and ultimately give rise to a diagnostic tool that's non-invasive, easily accessible, and rapid. 
Having received the top prize of $3,000, Baker will now represent UNSW at the Universitas 21 3MT competition on Monday 10 October and the Asia Pacific 3MT competition hosted by the University of Queensland on 19 October.
"I'm over the moon!" said Baker of her 3MT win. "The quality of the presentations tonight was outstanding, and I'm thrilled and honoured to have received first prize and to join the Asia Pacific Final and the University of Queensland."
Fiona Li (Medicine & Health) took out second prize and $1500 for her research into the dangers of vaginal laser treatments. Esta Qiu's (Engineering) presentation on making the public transport system more equitable was awarded joint third prize and $500 with Ada Lee (Engineering) who demonstrated how the efficient capture of stem cells could make gene therapy more affordable.
Junjun Muhamad Ramdani (Arts, Design & Architecture) took out the People's Choice Award and $1000 for his ideas on improving language teaching through collaboration between teachers and students.
Samuel Frimpong's (Arts, Design & Architecture) talk on promoting positive mental health among young construction workers from the Global South received an honourable mention from the judges.
Dr Bhasker said, "The UNSW 3MT Competition was a melting pot of fantastic ideas, passion and research from some of the brightest minds at UNSW. It's an exciting time for science and innovation in Australia."
Professor Jonathan Morris, UNSW Pro Vice-Chancellor Research Training & Entrepreneurship and Dean of Graduate Research, said, "Our PhD candidates are engaged in world class research, and the 3MT competition showcases their work in a really engaging and accessible way.
"I want to congratulate all of our outstanding finalists for their efforts. Each has provided a window into their exciting work and highlighted their ability to communicate and show their passion for their research."
Videos of this year's presentations will be published on the UNSW website next week.
Comments