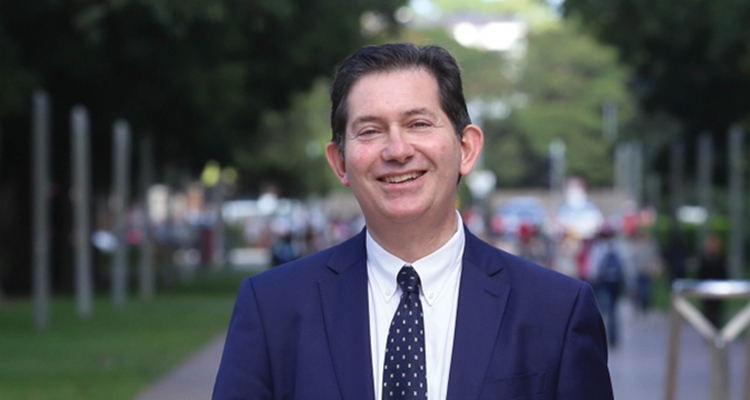 Colleagues
After a busy 10 days of meetings in the UK and the US, it's great to be back on campus. UNSW's PLuS Alliance partnership with Arizona State University and King's College London is progressing well. Among other achievements, the research links developed by our 120 PLuS Alliance Fellows have now delivered over $20m of grant funding, and plans for the PLuS School of Engineering in London are underway. I also had positive discussions with our partner universities about ambitious plans for online educational delivery.
From one partnership to another, I returned to a very exciting development for the NUW Alliance. I joined Premier Gladys Berejiklian at Warwick Farm last Thursday for the announcement that UNSW, the University of Newcastle and the University of Wollongong will partner with the University of Western Sydney (WSU) to commence planning for a new 'multiversity' campus as part of the Western Sydney Aerotropolis project. This is a milestone in our involvement in Western Sydney and shows that the NSW Government understands the key role a university can play in ensuring that Sydney's third city is a success. I also see it as a strong vote of confidence in the partnership model—the NUW Alliance was formed not to do things that each university could already do on its own, but to add value for NSW through our combined efforts. I was joined at the announcement by acting Vice-Chancellor of the University of Newcastle, Professor Kevin Hall, acting Vice-Chancellor of the University of Wollongong, Professor Judy Raper, and Vice-Chancellor and President of WSU, Professor Barney Glover.
I am pleased to let you know that we have reached an agreement on both the Academic and Professional staff Enterprise Bargaining Agreements. The details of these proposed new Agreements have been formally communicated with you today. My thanks to everyone in the Division of HR and across the university who have contributed to this process.
It was heartening to see UNSW's impressive result in the QS Graduate Employability rankings, strengthening our existing reputation as a top source of quality graduates. In the QS rankings, we climbed eight spots to 28th in the world, making our graduates the third most employable cohort in Australia after the University of Melbourne and the University of Sydney. We scored particularly well on Employer Reputation (94.9%) and Alumni Outcomes (93.3%). In our 2025 Strategy, we committed to create globally-minded, in-demand graduates, and this most recent result is proof that employers are trusting us to produce graduates with the skills they need. Initiatives such as our Scientia Educational Experience, new education-focussed roles, the Scientia Education Academy, and the upcoming UNSW3+ calendar promise to raise the quality of UNSW's educational experience higher still over the coming years. Students and staff will share some of our best educational innovations at next week's Inspired Learning Summit.
DVC Research Nick Fisk and I were excited to announce earlier this week our first set of Futures Institutes. This is a major development for UNSW and follows an extensive review process. My congratulations to the four Institutes:
Ageing Futures to be led by Professor Kaarin Anstey;

Cellular Genomics to be led by Professor Chris Goodnow;

Digital Grid to be led by Professor Joe Dong;

Materials and Manufacturing to be led, in the interim, by Professor Sean Li.
You can find out more by visiting the Futures Institute website. My thanks to all those who put in a bid in what was a highly-competitive field. My understanding is that the process identified new opportunities and developed partnerships which can form the basis for other funding applications within UNSW and externally. There will be a launch event for the first four Institutes on 24 October and the process for the second round of applications in 2019 will be outlined in due course.
I am also excited about the announcement of our Grand Challenge on Rapid Urbanisation. Professor David Sanderson from the Faculty of Built Environment (profiled in this edition of Inside UNSW) will lead on this new project—our fifth Grand Challenge—which will promote understanding of the forces at play as our cities become more dense. The challenges of rapid urbanisation are especially felt in our own Asia-Pacific region, as we have seen just this past week in the wake of Super Typhoon Mangkhut. I look forward to the official launch of the Grand Challenge in Rapid Urbanisation at the Urban Resilience Asia-Pacific Conference here at UNSW in November.  
It was good to see UNSW's Torch Innovation Precinct named the best public/private partnership at the PIEoneer Awards for international education in London. Ours is the first Torch Precinct outside China, and an example of the value of close collaboration between research and industry. In another example of collaborative research success, UNSW researchers were just last week awarded a share of $22.1 million in funding from the Australian Renewable Energy Agency for research into generating hydrogen through solar technology as a means to exporting renewable energy. This is an area in which UNSW continues to lead on the world stage.
Congratulations to UNSW Medicine's Professor Minoti Apte OAM, who has been awarded the Gastroenterological Society of Australia 2018 Distinguished Researcher Prize for her work on pancreatic stellate cells, a cell type that is now known to play a major role in the progression of both chronic pancreatitis and pancreatic cancer. Congratulations also to Associate Professor Nadine Kasparian, also from UNSW Medicine, who has won a 2018-19 Harkness Fellowship in healthcare policy and practice. The Fellowship will see her work with leading experts at Harvard University and the Boston Children's Hospital. Congratulations on these impressive achievements.
A thank you to those who contributed nominations for the 2018 President's Awards. We have received a record number of nominations this year. I look forward to reviewing the nominations and learning about the contributions of our outstanding staff. On nominations, Pro Vice-Chancellor Eileen Baldry has put out a call for expressions of interest from staff interested in taking on the role of Diversity Champion when our current Champions' term ends in December this year. Diversity Champions are vital to carrying out an important element of the 2025 Strategy — advocating for staff and students and working to make UNSW an international exemplar in equity, diversity and inclusion. Nominations are invited via this form.
The Meet the New Professor lectures are attracting much interest. They are inspiring events and I would encourage you to head along to some if you haven't already. Coming up, we have Professor Fiona Martin and Professor Jack Cadeaux from UNSW Business School on Thursday 27 September, and, also from the Business School, Professor Pauline Grosjean and Professor Shayne Gary on Wednesday 10 October. If you cannot make it, the lectures are always posted on Soundcloud after the event.  
Finally, I wanted to pass on news of a couple of notable recent sporting achievements of our talented students. Thomas Grimes (Aerospace Engineering), Jessica Grimes (Arts/Law), Mitchell Evans (Mechanical Engineering) and Nicholas Rozenauers (Engineering/Commerce) won gold for UNSW at the World University Sailing Championships in France, and closer to home, our UNSW snow sports team were the victors at the UniSport Nationals Snow event at Mt Buller, with a special mention to cross country skier Callum Watson (Environmental Engineering).
Best wishes,
Ian
Comments