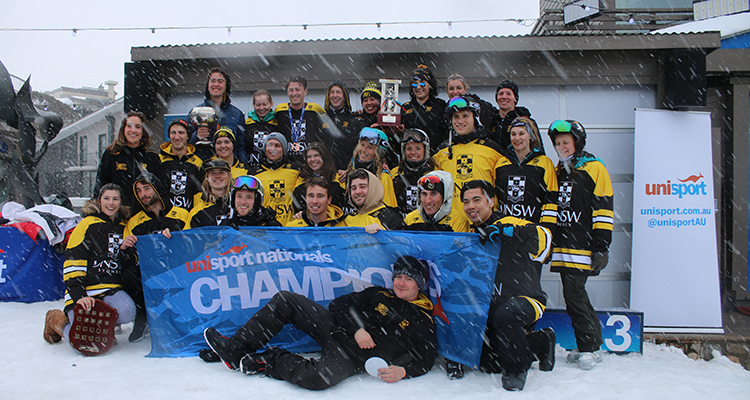 A haul of 15 medals was enough to secure the championship for a UNSW squad that had not expected a third successive overall victory.  
Team UNSW have been crowned Overall Champions for a third year in a row at the 2018 Nationals Snow.  
Held at Mount Buller over the first weekend in September, the UniSport event featured 500 athletes from universities around Australia. This is the second time in the history of Snow Nationals (and its predecessor event Snow University Games) that an institution has achieved the "three-peat".  
Thirty-six athletes from UNSW brought home an impressive 15 medals with seven gold, four silver and four bronze. The UNSW squad was led by team captains Catherine Huynh (Arts/Law) and Zoe Spanos (Commerce/Media) who, alongside Ashley Chapman-Davis, Gregory Whitehead, Nathan Finch, Maddy Dobbie and Callum Watson, were participating in their third triumph at the games.   
With the Australian Moguls Championships taking place at the same time as Snow Nationals, Arc Sport UNSW was not expecting to take out the overall champion status. However, gutsy individual and team performances secured the mantles of Overall Men's Champions, Overall Women's Champions and Overall Champions.   
The versatility of UNSW's snow athletes was on full display over the course of the weekend as numerous competitors won medals in a variety of disciplines. Elite Athlete Program scholar Gregory Whitehead won the Men's Snowboard after claiming bronze in the Men's Giant Slalom, silver in Men's Super G and gold in Men's Rails. Bella Burns also cleaned up with a huge effort to win gold in Women's Super G and Women's Giant Slalom, and bronze in Women's Rails to take out Women's Alpine Champion status. Kasha Wojick dominated the freestyle category with silver in Women's Slopestyle and Women's Moguls, and gold in Women's Rails. Meanwhile, Ben Lexcen scholar Callum Watson was triumphant in Men's Individual Cross-Country skiing and Ashley Chapman-Davis won gold in Men's Moguls. 
There were heroics in Men's Relay Cross Country by Anthony Clifford who was substituted in 10 minutes before the event. The team claimed a bronze medal and it was an especially momentous occasion for Anthony who had previously never attempted cross country skiing. 
Team UNSW is a tightly bonded group who enjoyed a team picnic during the 12-hour commute to Mount Buller, and rejoiced in singing unofficial team anthem "Take Me Home, Country Roads" by John Denver.  
Arc Sport Deputy Director of Student Services James Yau commended the team's tenacity and collective mindset.  
"The team spirit continued throughout the week, evident in the pride each team member had representing UNSW in their individual sports and how they worked together within team heats," James said.  
You can read all the results at www.arc.unsw.edu.au/sport
Comments