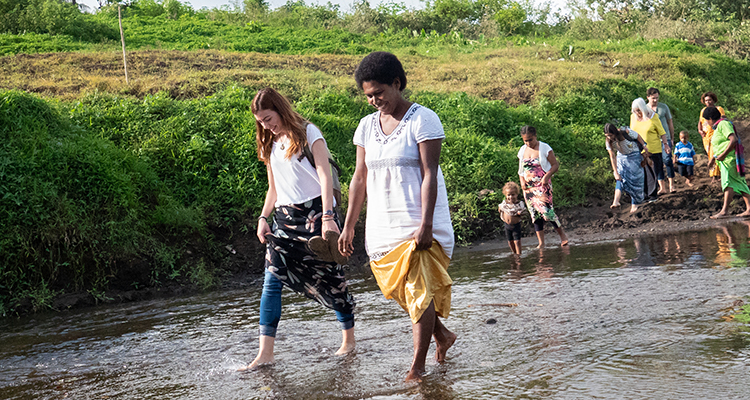 The Institute for Global Development will launch our inaugural Global Development Month this October, showcasing some of the incredible work that UNSW staff and students are involved in around the world.
Join the Institute for Global Development in October for UNSW's inaugural Global Development Month.
The jam-packed program celebrates and builds on the strong foundations of the annual Arts & Social Sciences Global Development Week and aims to identify how to have impact for development in Australia and abroad. The month-long program will showcase the incredible work that our community is already undertaking while also providing opportunities to foster new relationships and collaborations. Free events will bring together leading international and domestic researchers and practitioners, UNSW staff, students and alumni through a series of interactive events and workshops. These will be designed to engage on topics of development discourse, redefine good practice guidelines and debate the current critical development challenges. 
Program highlights include the launch of Meridian180 at UNSW; the UNSW Arts & Social Sciences Global Development Week "License to Drill: Resources, Sustainability and Development"; student focussed "Careers in Development" seminar with UNSW Alumni; regional focussed roundtables and a Women's Economic Empowerment forum.
On Tuesday 30 October, UNSW will welcome Professor 'Funmi Olonisakin from Kings College London, and His Excellency, Jose Ramos Horta, former President of Timor-Leste, to speak about peace, conflict and governance. This event will be delivered in collaboration with the Australian Council For International Development conference that will see Australia's International Development sector converge at UNSW for their annual meeting, this year focused on Human Rights: Peace.People.Plant.
Stretching into November, Global Development Month will lead into the Festival of Dangerous Ideas and the Urban Resilience in Asia Pacific Conference.
The Institute for Global Development grew out of the work that hundreds of UNSW staff, students and alumni are delivering in disadvantaged communities across the world. Global Development Month provides an opportunity to showcase, promote and continue to build on that work.
Comments