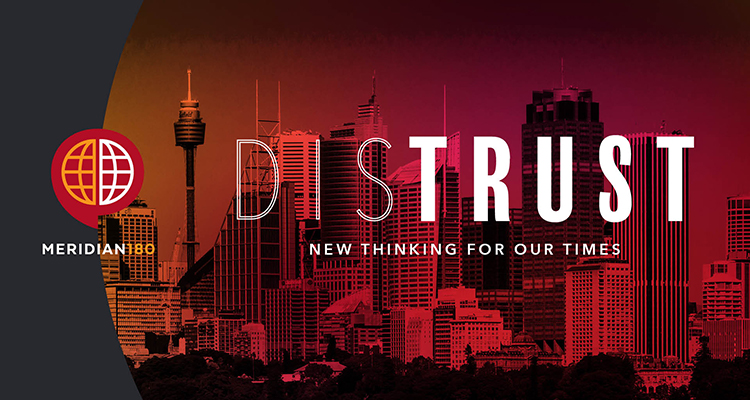 A new way of engaging leading thinkers across disciplines, professions, languages and national borders to confront the grand challenges of today and tomorrow.
Today's interconnected world presents challenges that cross borders, languages and fields of expertise, calling established institutions into question. Meridian 180 has built a unique platform for multilingual discussion, assembling a diverse group of over 1,000 global thinkers from 29 countries and a range of fields to advance new possibilities for tackling emerging critical issues.
Harnessing the power of translation to ensure a global dialogue, the Meridian 180 platform has the ability to accurately and quickly translate participants' insights and disseminate them in four key languages - Chinese, English, Japanese and Korean. The combination of online and face-to-face forums allow for robust real-time conversations geared towards transformative leadership and policy innovation on the global plane.
Meridian 180 is a partnership of the Buffett Institute for Global Studies at Northwestern University in the USA, Ewha Womans University in Seoul, Korea, the University of Tokyo, Keio and Ritsumeikan Universities in Japan and – as of 2018 - UNSW.
"All of us at Meridian 180 are so excited to be able to collaborate in a much more intensive way with the UNSW community. Fleur Johns, Rob Brooks, and so many other UNSW scholars bring vital new ideas to the global conversation. Fleur in particular has been a leader of Meridian 180 since its inception and its unique character bears the special mark of her brilliant and whole-hearted thinking," says Annelise Riles, Founder of Meridian 180 and Executive Director Buffett Institute for Global Studies Chicago. "Together, we will develop new solutions to pressing global problems. And more than this, we will reimagine the global university and bring a new spirit of creativity, empathy and curiosity to the two-way dialogue between the university and the world."
Interdisciplinarity is key to Meridian 180. Leaders in research, business, government, civil society and the arts are all part of the project, enabling the exchange of views among those who do not have a language in common, either literally or vocationally.
Through their multilingual, multi-sectoral approach, Meridian 180 members facilitate the development of new insights, perspectives and research directions, without the common pitfalls of siloed thinking and practice.
The past half century has yielded extraordinary advancements across a range of specialised fields, but as Fleur Johns - Professor of Law and Academic Director of the newly established Meridian 180 base at UNSW - explains, it may also have come at a cost. "So absorbed have we been in our respective fields and their associated vocabularies and professional cultures, that it has become difficult to find time and space to explore outside these, and to remain open to the unfamiliar.
"Meridian 180 is about making space to work across specialisations and language groups, so that talented people can try out new ideas in dialogue with people with whom they might never otherwise cross paths. I can think of few better sites for that initiative than UNSW, an incredibly diverse campus, with a wide range of research strengths, and a record of educating people to become leaders of their generation."
Trust and Distrust will be the theme when the UNSW base of Meridian 180 launches on 5 October. With a keynote address by The Hon Julie Bishop MP, and a distinguished line-up of speakers from business, government and academia, attendees will experience the Meridian 180 vision of how dialogue among scholars, business leaders, community organisers and policy makers can refresh thinking and embolden the practice of global thought leadership.
"There's a lot of hollow talk about 'thought leadership' in business, the public sector, and universities. Meridian 180 combines the best elements of thought and leadership, and forces one to do so in a truly international context," reflects Scientia Professor Rob Brooks, Academic Lead, Grand Challenges program after returning from the Meridian 180 Global Summit in Hong Kong recently. "Our collaboration with Meridian 180 represents a perfect vehicle for UNSW's aspirations to global impact and our commitment to thought leadership."
Register to attend the UNSW-Meridian 180 launch event at UNSW Kensington for conversations featuring Tim Fung, Founder and CEO of Airtasker; Jess Miller, Deputy Lord Mayor, City of Sydney; Ian Oppermann, NSW Chief Data Scientist; Ian Chubb former Chief Scientist of Australia; and Annelise Riles, Founder of Meridian 180 and Executive Director, Roberta Buffett Institute for Global Studies Chicago.
Date: 5 October 2018
Time: 9:00am to 5:00pm
Venue: Tyree Room, Scientia Building
Registration is available for a whole day of conversations, or for individual sessions.
Learn more at www.meridian180.unsw.edu.au or email australia@meridian-180.org.
Comments