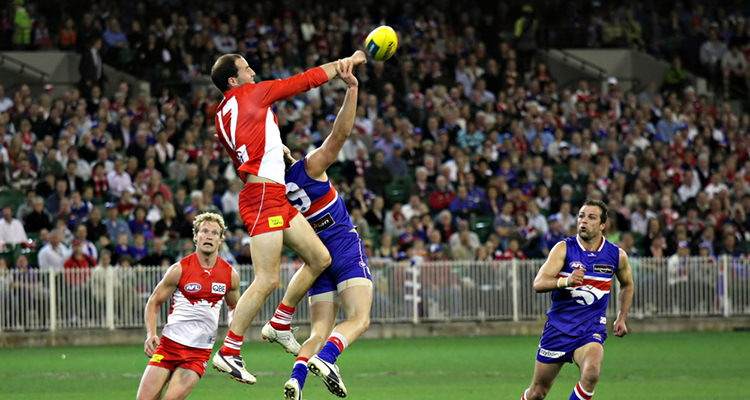 Four new members are set to be inducted into the UNSW Sports Hall of Fame on October 25.
AFL stars Ted Richards and Tadhg Kennelly, surfer Jessi Miley-Dyer and cyclist Stephen Wooldridge (posthumously) will be honoured at a gala luncheon at Randwick Racecourse.
The UNSW Sports Hall of Fame was launched in 2003 to honour UNSW students and staff, past or present, who have achieved success at the highest level of sporting competition or made a significant impact on community, country and/or the sporting world.
There are currently 23 members, including Australia's 1991 Rugby World Cup winning coach Bob Dwyer and three-time Ashes winning cricket captain Mark Taylor.
This year's new inductees are:
Ted Richards (Bachelor of Commerce, 2010)
AFL
AFL Premiership 2012, AFL All-Australian Team 2012, AFL Grand Finals 2006 & 2014
Richards started his AFL career with Essendon Bombers, before moving to Sydney Swans in 2005.
He ultimately played 228 games for the Swans, including three Grand Finals, and was part of the 2012 Premiership winning team. That same year he was selected for inclusion in the All-Australian team and was runner-up for the Bob Skilton medal – Sydney's best and fairest award.
Richards was also a Player Representative and Board Member of the AFL Players Association from 2012 to 2017.
Jessi Miley-Dyer (Master of Business, 2016)
Surfing
ASP Women's World Tour, Deputy Commissioner and Director of Athlete Development at World Surf League
Miley-Dyer began surfing at the age of eight and won numerous national junior titles before becoming World ISA Under-18 champion in 2003.
She turned professional in 2006 and won the Billabong Pro Maui in her debut season, beating world champion Layne Beachley in the process, on her way to an impressive fourth place overall in the ASP Women's World Tour rankings and the Rookie of the Year award.
Another claim to fame was being chosen as an Olympic Torch bearer in 2000 at the age of just 14 and carrying the flame on a surf boat onto Bondi beach.
Tadhg Kennelly (Bachelor of Arts, 2005)
AFL
AFL Premiership 2005, All-Ireland Football Championship 2009, AFL Grand Final 2006
Kennelly is the only holder of both an AFL Premiership medallion (Sydney Swans) and a Senior All-Ireland Championship medal (Kerry).
Having moved to Australia from Ireland in 1999, he helped the Swans end a 72-year drought to win their very first AFL Premiership in 2005 – before doing a now-infamous Irish jig on stage at the MCG to celebrate.
Kennelly also played in the 2006 AFL Grand Final, before returning to Ireland and realising a boyhood dream by winning the All-Ireland Gaelic football championship with Kerry in 2009.
Stephen Wooldridge OAM (Director of Development, UNSW Engineering, 2015–2017)
Cycling
Olympic gold medallist, 4 x World Champion, Commonwealth Games gold medallist, NSW Sports Hall of Fame
Wooldridge was an Australian track and road-race cyclist who won Olympic gold in the 4,000m Team Pursuit event at the 2004 Games in Athens. He was also a four-time world champion in the same discipline (2002, 2003, 2004 and 2006) and won Commonwealth Gold in 2002.
In 2005, Wooldridge was awarded the Medal of the Order of Australia for service to sport and was inducted into the NSW Sports Hall of Fame in 2015. Sadly, in 2017, UNSW and the world cycling community mourned his sudden passing.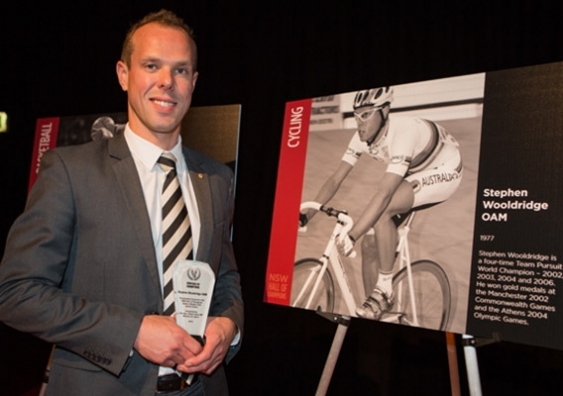 Previous Hall of Famer inductees Bob Dwyer (rugby union), Alex Blackwell (cricket) and George Peponis (rugby league) will also be attending the gala luncheon for a discussion on the current state of Australian sport and the impact professionalism is having on today's athletes.
Roger Carter, UNSW Sports Development Manager, said: "UNSW has a rich history of students, staff and alumni who have performed at the highest level of sporting competition. Craig Davis organised the first Hall of Fame in 2003, and it has become a wonderful institution.
"The four inductees have won Olympic and Commonwealth gold medals, a global surfing title, AFL Premierships and All-Australian selections. They are fully deserving of their place among such esteemed company.
"It will be a fantastic event not only to celebrate the four new inductees, but to also raise funds for the Ben Lexcen Scholarships to support future students in their study while they compete and train at the highest level. So, if you are free on Thursday 25 October, come along."
Tickets for the 12pm–3pm gala lunch, which includes two courses and drinks, can be purchased here – costing $155 for an individual seat or $1,450 for a table of 10.
All proceeds go towards funding the UNSW Ben Lexcen Scholarships, which support the university's elite student athletes and potential future Hall of Fame members.
Comments