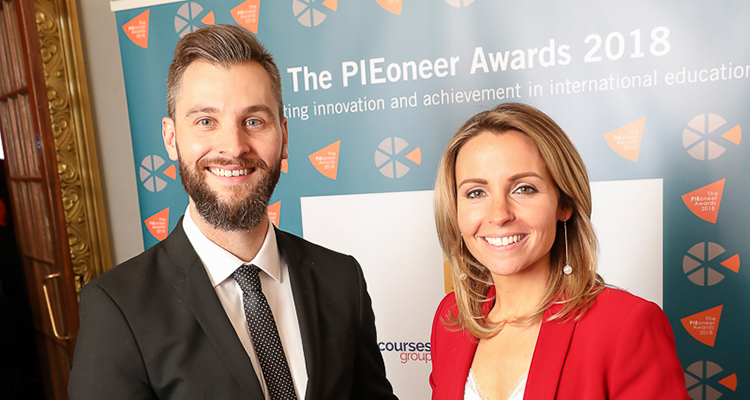 UNSW's world-leading Torch Innovation Precinct was named the best public/private partnership at the recent PIEoneer Awards in London. The Awards celebrate innovation and achievement in international education.
UNSW Sydney's Torch Innovation Precinct has won the best Public/Private Partnership of the Year award at the second annual PIEoneer Awards PIEoneer Awards for international education.
The awards, announced in London earlier this month, honour innovation and achievements in international education, and attract leaders from higher education, professional services and government bodies from around the world. 
The Public/Private Partnership of the Year is awarded to the best example of a program that exceeds standard partnership expectations in terms of its benefits to the organisations involved – internally, commercially and reputationally, as well as to international students. 
The Torch Innovation Precinct outshone other entries due to its far-reaching benefits to the broad spectrum of participants involved, including research and other staff across multiple disciplines at the University, industry partners, entrepreneurs, investors and policy makers. 
Deputy Vice-Chancellor, Enterprise at UNSW, Professor Brian Boyle, said: "The Torch Innovation Precinct at UNSW is a world first and is transforming the model for international industry research engagement and innovation. This award recognises the team's dedication to delivering a successful partnership, driving translation of fundamental research into high-impact global outcomes. I congratulate everyone involved."
The state-of-the art Torch Innovation Precinct launched in 2016 in partnership with China's Ministry of Science and Technology and is the the first precinct outside China.
The government-backed initiative brings the successful Chinese 'Torch' model of science and technology parks to UNSW's Kensington campus to showcase Chinese and Australian collaboration and R&D. The Torch pipeline has grown to $100m-plus of new collaborations with industry partners including energy, water and environment, advanced materials, biotechnology and life sciences, ICT and advanced manufacturing, and engaged more than 100 researchers. 
UNSW will launch phase two of the partnership at the second Torch Innovation Week this October. This will see the development of the large-scale innovation precinct that will combine research, IP commercialisation, investment capital, multinational R&D centres, entrepreneurship, incubators and accelerators, staff and student start-ups, manufacturing and more. 
The second Torch Innovation Week will be held from 29 October - 2 November 2018 at UNSW's Kensington Campus. For more details, see the Torch website.
Comments