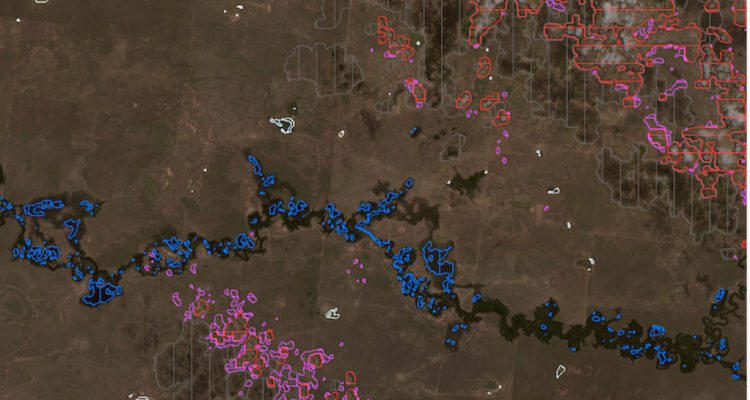 Our researchers have created a comprehensive new record of the Murray-Darling Basin's surface water, which will prepare water managers for the dry years to come.
For the first time, water managers now have a series of maps showing the impacts to surface water throughout the Murray-Darling Basin following the Millennium Drought and La Niña deluges, thanks to a team of researchers led by Dr Mirela Tulbure.
"The Murray-Darling Basin is one of the driest basins in the world," said Mirela while discussing her team's research with NASA. The Millennium Drought, from 2001 to 2009, caused unprecedented impacts due to a combination of low rainfall and record-low inflows into the river. This devastated communities, industries and the environment, all of which rely on a healthy Murray River to prosper.
With warmer and drier conditions expected across southeastern Australia over the coming years, information on how the basin was affected by similar conditions is vital to managing the area.
Mirela and her UNSW colleague at the Geospatial Analysis for Environmental Change Lab, Dr Mark Broich, processed more than 25,000 satellite images to create their highly accurate, automatically generated Surface Water Dynamic (SWD) data set. This provides a comprehensive historical record of the basin's surface water between 1986 and 2011 and allows for better understanding of vegetation response to drought and flooding.
To map water at a scale where small rivers could be seen across four decades, Mirela and team turned to Landsat. Landsat, a program co-managed by the United States Geological Survey (USGS) and NASA, represents the world's longest continuously acquired collection of space-based images of the Earth's surface and provides a unique resource to assist in managing our food, water, forests and other natural resources.
"This is a really exciting time to be doing this kind of work," she said. "There's an ever-pressing need of quantifying environmental change and drivers of change given changes in climate and the way we use our land."
The baseline information and maps compiled by Mirela and her team will help support water policy decisions and prepare water managers for the dry years to come.
Mark Broich will be presenting on the group's findings at the next Hacky Hour event on 27 September from 3pm to 4pm. All are welcome. For more information, visit the event listing on the Research website.
Comments