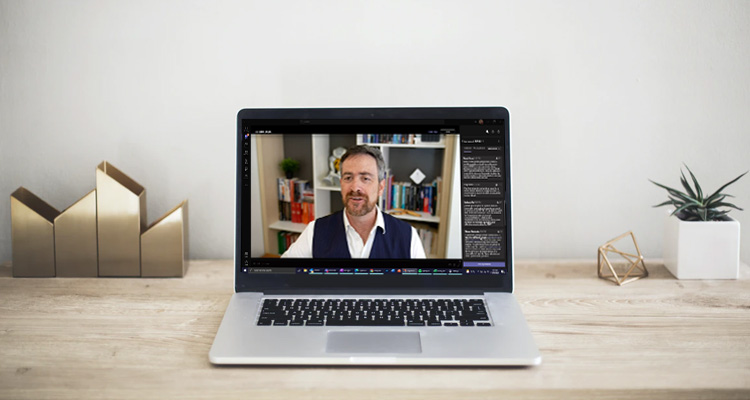 On 14 September, more than 3,700 UNSW staff tuned in to hear from the Vice-Chancellor and members of the Management Board.
Hosted virtually as a Teams Live event, Vice-Chancellor and President, Professor Attila Brungs opened the forum by thanking staff for, "looking after your students, the broader community and each other," through their hard work, resilience, exuberance and creativity through another challenging year in 2022.
Prof. Brungs then highlighted some of the recent achievements of the University community, including staff who had recently won major prizes for research and excellence. He also congratulated everyone who was involved in organising Open Day, recognising their energy, enthusiasm and fantastic efforts.
"It was an outrageous success," he said, adding that 35,000 prospective students, their families and their friends visited the Kensington and Paddington campuses. He noted that there were more than 17,000 registrations online - double last year, with 1,100 students and staff providing a warm UNSW welcome to visitors.
Prof. Brungs reaffirmed his commitment to achieving the vision set out in the UNSW 2025 Strategy, noting that the world has changed a lot since the document was first written. He added that some initiatives would be reprioritised, to ensure the University is responsive to the current climate and circumstances.
"Together we will make a huge difference – not just for the University, not just for our community, but for Australia as a whole," he said of the Strategy.
The Vice-Chancellor noted that the University can capitalise on the increased public trust in our experts and researchers, following the COVID-19 pandemic. He also recognised the Federal Government's interest in UNSW, shown by the many ministerial visits this year.
"We are in a unique position to help tackle the critical challenges facing society around climate change and I really do feel this momentum building," he said.
In closing, Prof. Brungs then thanked his colleagues for all their feedback through the Ideas Hub and various school visits, noting suggestions around inclusivity, workload, 3+ optimisation, safety training, student experience and policies that are being addressed as well as the strong sense from across the staff body about increasing the momentum and focus on positive social impact of UNSW.
Finally, he recognised the role that staff feedback had played in UNSW's initiatives to tackle inequality, enabling the University to set a strong goal of 25 per cent enrolment of first year students from underrepresented students and schools.
Three Minute Thesis (3MT) presentation
In late August, Scientia PhD candidate Merryn Baker wowed judges in what Prof. Brungs said was the best 3MT competition he has seen in 10 years of judging. She was invited to give her presentation on diagnosing lung disease through breath analysis at the all-staff forum.
You can find out more about her 3MT win and the competition here.
Update on enterprise bargaining
Deena Amorelli, Chief Human Resources Officer, gave an update on Enterprise Agreement negotiations with employee unions. 
"We are committed to negotiating agreements which reflect the needs of students, staff and the University, and which provide flexible and fair terms of employment for all our staff," she said. 
Reflecting staff comments provided through the feedback form, the University will maintain flexibility allowing for a balance of work and other life responsibilities. In line with the feedback received, UNSW is also committed to sustainable salary increases.
Ms Amorelli also addressed other feedback covering parental leave, flexibility of leave, casual academic staff provisions, public holidays and workload.
The University is hopeful the negotiations will be finalised by the end of the year. Staff are invited to submit questions and feedback via the enterprise agreement feedback form, and all staff will be invited to join focus groups in the coming weeks to discuss the agreement in more depth.
Staff questions
UNSW Provost, Professor Anne Simmons opened the virtual floor to questions, which members of the University's leadership answered.
Topics included salary rates, supporting the University's desire to close enterprise agreement negotiations with unions soon, easing the increased workload pressures of 3+, the full return of students to campus, the state of the University's finances, upgrading campus ventilation and the new Village Green.
Eureka Prize winner, Scientia Professor Veena Sahajwalla
To close the Forum, Prof. Simmons welcomed Scientia Professor Veena Sahajwalla, who was recently recognised for her work in communicating the science of sustainability with the 2022 Eureka Prize for Promoting Understanding of Science.
Prof. Sahajwalla gave an inspiring speech to staff on facing waste, sustainability and climate challenges. She said, "I want to make the point that by better valuing our waste materials and creating circularity for their use, we can actually help the world become so much more sustainable and tackle big global challenges."
You can view each presenter's slides from the forum here.
Comments