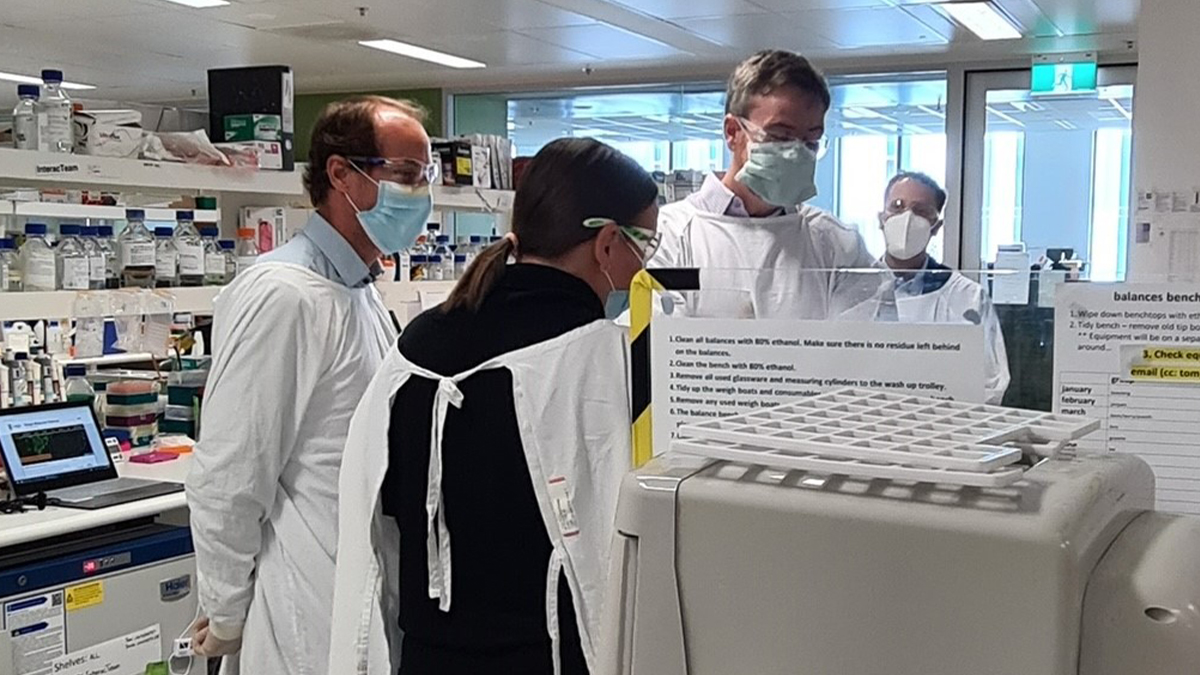 Dear colleagues
Thank you to the more than 3700 colleagues who were able to join the virtual All-Staff Forum last Wednesday. The meeting was an excellent opportunity to highlight some recent successes across UNSW, to provide an update about work towards our UNSW 2025 Strategy Focus Areas and our Enterprise Bargaining Agreement negotiations, and to acknowledge some fine achievements of our peers. A special thanks to this year's Three Minute Thesis winner, Scientia PhD candidate Merryn Baker, and one of UNSW's 2022 Eureka Prize winners, Scientia Professor Veena Sahajwalla, for their sharp, thought-provoking presentations. I'm grateful to all colleagues who posted questions in the chat during the forum. We were able to answer many of the questions during the Q&A session and we are in the process of addressing those we didn't have time to answer on the day. If you were unable to attend the forum, you can find out more and view the presentations in this week's edition of Inside UNSW.
A score of school visits underscores excellence
I am having a wonderful time during my visits to our schools. I am most appreciative of colleagues taking the time to receive me and share the highlights, issues and opportunities within each school I've visited so far. I've been to nearly half of our 42 schools (Hitchhiker's fans please note!) over the past few months. While each of our schools, their expertise and function are unique, it is energising to see the common thread that binds each team together and to UNSW: a commitment to excellence in education, research and student experience, and to the positive impact that our work has on the world.
Meeting colleagues who are experts in their fields and who are sharing their knowledge in order to make our world a better place is energising, and a resounding endorsement of our University's mission. I'm enjoying asking colleagues what they're most proud about in their school's work and their answers are awe-inspiring:
In the school of Biomedical Sciences, for example, Drs Yann Gambin and Emma Sierecki (pictured above) presented their ground-breaking portable confocal microscope/Parkinson's disease diagnostic platform.
In Computer Science & Engineering, I was given a demonstration of research into detecting brain tumours and exploring new diseases using retinal imaging.
Colleagues in the School of Arts & Media are co-designing virtual reality experiences for young people who are in hospital with serious illnesses.
There are many more examples that our schools have generously shared with me – some of which are included in the story in this week's Inside UNSW.
A heartfelt thanks to colleagues in our schools who have hosted me to date. And, to those who I'll meet in the coming months, I look forward to spending time with you.
UNSW Artificial Intelligence Institute launches
On Tuesday of last week, I attended the launch of the UNSW Artificial Intelligence (AI) Institute, a flagship University-wide institute that brings together more than 300 staff and 40 groups at UNSW who work with AI.
The work they do spans multiple disciplines – an indication of the breadth of AI's application. The diversity of research is quite incredible and includes such important work as autonomous remote monitoring of Australia's vast coastline, medical imaging-based diagnostics, and human performance and stress management. And, UNSW has some of the best soccer-playing robots in the world: five-time robot soccer world champions, if you please!
The UNSW AI Institute will provide a forum for our researchers and students to share ideas and maximise opportunities for collaborative creativity and the discovery that can happen in such a fertile environment. It will play its part in explaining to the broader community how AI can be of benefit to society, but also encourage debate about its limitations, including appropriate regulation.
I wish all UNSW academics well in their work with the Institute, and in their collaborative endeavours across what is a fascinating field.
Shalom Gamarada inspires and astounds
I had the immense privilege of attending the Shalom Gamarada Indigenous Residential Scholarship Program annual reception last week. This was my first opportunity to meet current students and graduates of the program that enables participating Indigenous students to study at UNSW and live at Shalom College with accommodation, academic and wellbeing support.
Quite honestly, it's difficult to put into words how moving it was to hear the stories four Shalom Gamarada scholars shared at the event on Wednesday night. I'm grateful for permission to share those of sixth-year medical student, Kyall Flakelar, and first-year medical student, Kane Jenner with you.
Kyall Flakelar is a proud Wiradjuri man from Narromine in the Central West of NSW. He is in his final year of Medicine at UNSW.
Kyall said, "I am one of nine siblings in my family, so as you could imagine, money was tight. This was my primary concern when considering my future – particularly, going to university. Moving to Sydney to study at university didn't seem like a possibility until I attended the Nura Gili Indigenous pre-programs where I learned all about the scholarships, accommodation and support services available to me on campus. This is when I saw this dream of mine – to be the first in my family to progress beyond year nine of high school and attend one of the top universities in the world to study Medicine – become a reality."
Kane Jenner, 26, is a first-year medical student. He didn't ever see himself going to university for six years, because he couldn't afford to move 2000km away from home to a city with a much higher cost of living. He spent eight years working in low-wage jobs to save whatever he could, before coming to study at UNSW as a Shalom Gamarada scholar.
Kane looks forward to being able to pay forward the benefits of his career in medicine. "Maybe I'll become a Gamarada donor, or maybe I'll start my own scholarship program. If nothing else, maybe I can at least inspire someone like me. And that's really what Gamarada is all about. Supporting, inspiring, and paying it forward. I'm proof that it works."
Shalom Gamarada is a program with which UNSW is very proud to be involved, as an exemplar of the transformative power of education. It sits in harmony with the idea that higher education should be an opportunity for all. Our University's recent expansion of the Gateway Admission Pathway and Program for underrepresented students and schools attests to this firm belief.
You can read more about the Shalom Gamarada program and some of its inspiring scholars at www.shalomgamarada.org.
Be sure to read more Inside, including…
As always, Inside UNSW is brimming with stories of excellence, impact and inspiration. I encourage you to browse this week's edition here.
Best regards
Attila
Professor Attila Brungs
Vice-Chancellor and President
Comments