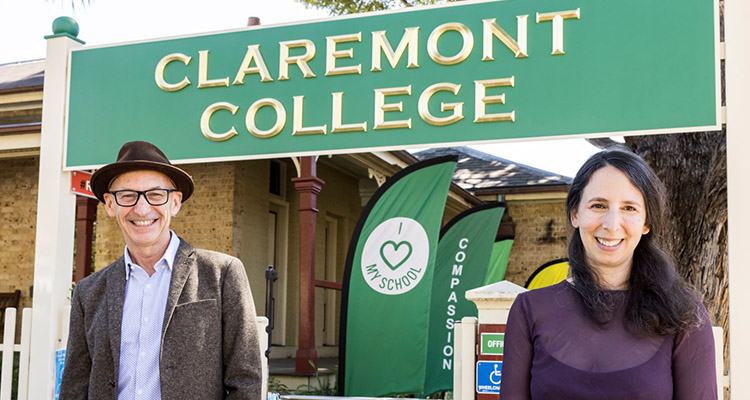 Programs run by UNSW researchers will enable schools to identify indoor and outdoor pollution levels, and teach students practical ways to reduce this air pollution.
The CleanAir Schools pilot program is being expanded from six to 100 NSW schools over the next two years to better understand the environment that Australia's children learn and play in.
The $1.9 million program, developed by UNSW researchers, monitors air quality inside and outside classrooms and recently won the CASANZ Innovation and Excellence in Air Quality Awards in the Innovation category. 
The installation of world-leading, low-cost air quality sensors at partner schools will help researchers map air quality as part of a broader program monitoring our changing environment.
CleanAir schools
NSW schools participating in the program will have two air quality sensors installed - one indoors and one outdoors that will operate over two years. The sensors are portable and are either powered by solar panels for outdoor installation or plugged into existing electricity outlets for inside installation.
Claremont College in Randwick, NSW participated in the CleanAir Schools pilot in 2021. A combination of indoor and outdoor sensors was installed and maintained by CleanAir Schools project staff.
Doug Thomas, Principal of Claremont College said, "Being able to monitor the quality of air at our school has been incredibly useful. We are keen to understand how best we can protect our children's health during the next bushfire season. We are also excited to trial the Energy Transformers program with our children next year."
Sean Wihera, VP Business Development & Partnerships with Clarity Movement, said: "As with our other collaborations around the world, such as Breathe London and Los Angeles Unified School District's Know Your Air Network, the CleanAir Schools program demonstrates the importance of accurate, localized air quality data in determining how we can best protect the health of our students and communities. Such data is key to identifying the most effective policies, investments and interventions to better manage our air quality — and to building synergies with broader decarbonisation initiatives such as the Energy Transformers program."
STEM educational program for CleanAir schools
From 2023, schools can participate in the 'Energy Transformers' STEM educational program which helps to explain how their data from air quality monitoring connects to local and global energy and environment issues.
Energy Transformers, a solutions-focused approach to promoting STEM education is funded by the UNSW Digital Grid Futures Institute and will be rolled out as part of the upper primary curriculum.
Comments