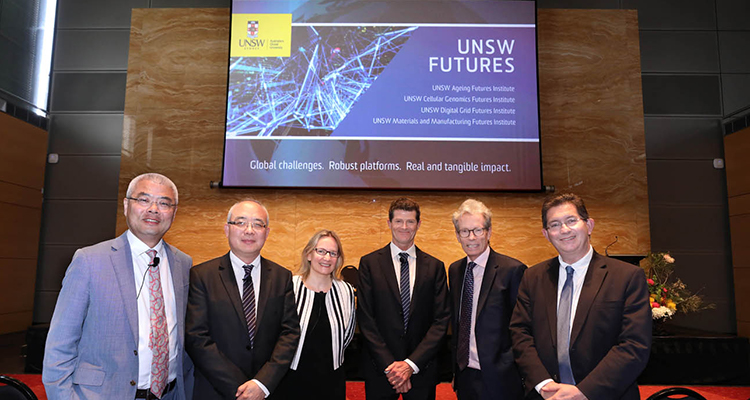 The first set of UNSW Futures Institutes were recently launched and will address the pressing issues of ageing, disease treatment, sustainable energy supply, and materials and manufacturing.
The first set of UNSW Futures Institutes were launched on 24 October, giving staff, researchers and external partners the opportunity to meet new Institute directors and learn more about their research plans.
The four Institutes are:
"These Institutes embody so much of what we set out to achieve through the UNSW 2025 Strategy," said President and Vice-Chancellor Professor Ian Jacobs at the launch event. "The UNSW Futures Institutes initiative will embed a culture of generous and creative collaboration which will maximise our talent and result in better outcomes for the community we serve."
The initiative aims to facilitate cross-faculty and cross-disciplinary work, drive innovative approaches to research addresses scientific and social challenges, and position UNSW as a big picture visionary university of the future.
"These virtual Institutes form part of a bold new framework to promote innovative interdisciplinary research to address some of humanity's most pressing challenges," said Professor Nicholas Fisk, Deputy Vice-Chancellor (Research).
Following a round of highly competitive bids from a variety of areas of the UNSW research community, the launch provided Institute leads with their first opportunity to give an overview of their vision for their institutes through short presentations and a panel discussion. A second round of UNSW Futures Institute applications will open in late 2019.
You can watch the video of the event on YouTube.
You can find out more about UNSW Futures here.
Comments