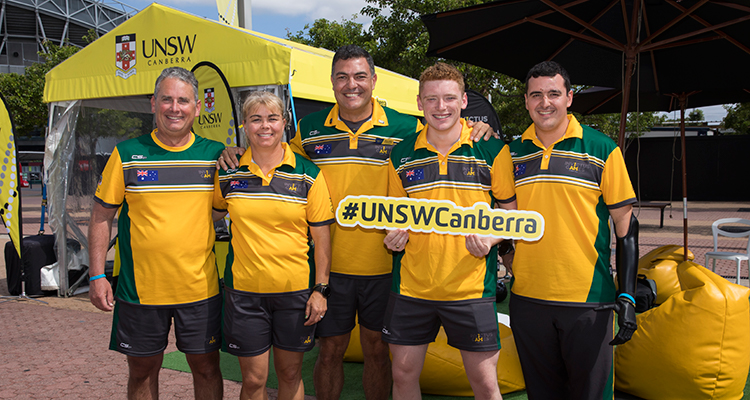 Rehabilitation milestones and personal bests were complemented by six gold and four silver medals for UNSW Canberra graduates at Invictus Games.
UNSW Canberra graduates picked up six gold and four silver medals in this week's Invictus Games Sydney 2018, but the competitors agree that the real highlights were the personal bests, major rehabilitation milestones and sharing their achievements with their families and friends. 
UNSW Canberra alumni Nicki Bradley, Jesse Costelloe, Ben Farinazzo, Wayne Hopkins, Nathan Parker, Scott Reynolds and Rob Saunders competed in athletics, indoor rowing, archery, driving, powerlifting, swimming, sailing and cycling events, respectively.   
"The Invictus Games is just such a magical place to be and the support that's wrapped around us is truly fantastic," indoor rower and powerlifter Ben Farinazzo says.  
Ben says the two gold medals he won in indoor rowing were a nice surprise.  
"I had a race plan, I stuck to my plan and I knew if I could stick to my plan I'd be happy with it. I managed to pull out a couple of PBs and the fact that they resulted in medals was a bonus." 
UNSW Canberra is a Premier Partner and the Official University Partner of this year's Invictus Games, highlighting the University's commitment to returned veterans.  
UNSW Canberra will keep the spirit of invictus alive with the UNSW Veterans Scholarship to help Australian Defence Force personnel make the transition from military to civilian life.   
The University has also launched a mentoring program for UNSW alumni veterans. The program partners veterans with others who have transitioned away from the military, so veterans can share their journey with a peer who understands the specific challenges involved. 
UNSW Canberra Rector, Professor Michael Frater, hopes the scholarship will help provide recipients with a new sense of purpose and build their career prospects. 
"Education is a vital part of the conversation when we talk about people transitioning from military to civilian life," says Professor Frater. 
UNSW Canberra congratulates all Invictus Games competitors for an inspiring week. A closing ceremony at Sydney Olympic Park this evening will mark the end of the Games. 
UNSW CANBERRA MEDALLISTS 
GOLD 
Ben Farinazzo - Indoor Rowing - men's IR6 four-minute endurance 
Ben Farinazzo - Indoor Rowing - men's IR6 one-minute sprint 
Nathan Parker - Indoor Rowing - men's IR3 four-minute endurance 
Nathan Parker - Athletics - men's IT3 100 metres 
Nathan Parker - Athletics - mixed 4x100 metre relay 
Rob Saunders - Sailing - Elliott 7 team 
SILVER 
Nicki Bradley - Powerlifting - women's midweight IP2 
Nathan Parker - Indoor Rowing - men's IR3 one-minute sprint 
Nathan Parker - Athletics - men's IT3 400 metres 
Scott Reynolds (with team mate Craig McGrath) - Jaguar Land Rover Driving Challenge 
Comments