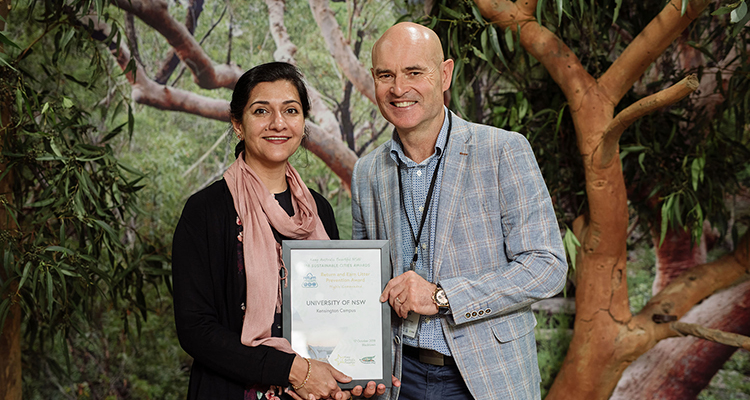 UNSW has been recognised at the 2018 Keep Australia Beautiful Awards for installing a reverse vending machine which has already helped recycle almost 1.5 million containers.
UNSW has been highly commended in the Return and Earn Litter Prevention category of the Keep Australia Beautiful Awards. The University was recognised for helping to reduce litter in the environment and increasing recycling rates within UNSW and the local community.
Since the installation of a reverse vending machine at the Kensington campus in January, almost 1.5 million glass, plastic and steel containers have been recycled, resulting in an equivalent of $150,000 returned to the community. 
The award honours programs or projects that provide for and encourage the use of the NSW Government's Container Deposit Scheme (CDS) in a local area. The CDS aims to improve recycling rates and reduce the volume of litter in the state by 40% by 2020.
"This award recognises the hard work the University's staff, students and neighbouring community are doing to ensure we reduce the number of disposable containers ending up in landfill," said UNSW's Environment and Sustainability Manager, Arifa Sarfraz.
The 'Return and Earn' scheme
UNSW was the first educational institution in NSW to install a reverse vending machine as part of the 'Return and Earn' container deposit scheme. The initiative allows UNSW students, staff and the wider community to earn 10 cents for every eligible drink container returned to the machine.UNSW's implementation of the scheme was highly commended due to its far-reaching benefits to the broad spectrum of participants involved, including academic and professional staff, students, industry partners and the local community.
Return and Earn has become an integral part of UNSW's plastic waste strategy. In 2018, use of the machine during the University's Plastic Free July initiative resulted in a 20 per cent increase on the average containers recycled per week compared to the previous month.
For more details on the reverse vending machine at UNSW, head here.
Comments