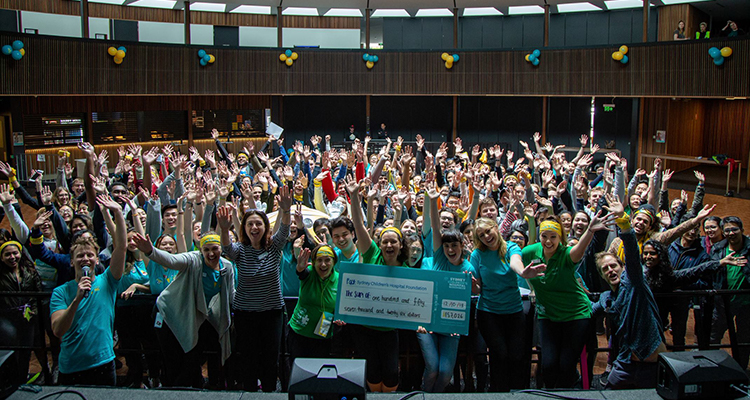 Phil' has smashed its 2018 fundraising targets, more than doubling the amount raised just a year ago for Child Life and Music Therapy
More than 260 UNSW students, staff and alumni took part in Phil's 24-hour Fun-A-Thon last month, Australia's largest student-led philanthropy initiative.
Tackling a new activity on the hour every hour from midday Thursday to midday Friday, participants teamed up through a range of challenges. These ranged from karaoke, dodgeball and aqua aerobics, to laser tag, obstacle courses and yoga, all to fundraise for Child Life and Music Therapy.
The 2018 campaign, launched in O-Week, had an original target of $85,000. The success of the events held in the first half of the year saw the goal revised to $100,000 in June.
Tens of thousands of dollars were raised during last month's Fun-A-Thon, meaning Phil' has smashed their original targets to take the 2018 total beyond $160,000, more than double the $76,403 raised last year.
Led by Courtney Cross, a fourth year Psychology student, the Phil' Fun-A-Thon is the largest and final event on Arc's fundraising calendar in 2018. The volunteers have also raised money and awareness throughout the year by participating in the 100km Pedal4Kids bike ride; hosting barbecues, bake sales, raffles, a charity concert and a gala ball; and completing the 14km City2Surf.
"Our average donation is just $2," said Courtney. "And when you think about how many students make sacrifices to save money, I am overwhelmed at the generosity that has been shown to help sick kids."
Since being established in 2016, Phil' has raised more than $250,000 for Child Life and Music Therapy.
Offered at Sydney Children's Hospital, Randwick, Child Life and Music Therapy helps children explore their treatment and illness to better understand it in a fun way. This reduces anxiety and normalises their hospital experience.
Comments