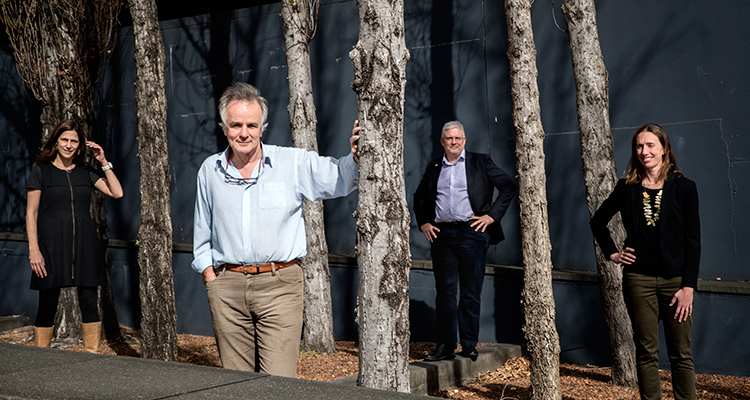 In this Q&A interview, UNSW's Adriana Verges (pictured first from left) shares how she was inspired to create a new TV fiction drama for the Climate Change Grand Challenge.
How have you been involved in the Grand Challenges?
I organised an event last year during Science Week called Cli-Fi: 'Big ideas for the small screen'. This event brought together academics, top climate scientists and  thinkers, as well as about 100 of Australia's best drama screenwriters. Together, we started seeding the idea of developing a drama TV series to provide a more compelling way to understand the impacts of climate change.
What can you tell us about the TV series?
It's currently in development. The working title is "By Degrees" and it's an anthology with six episodes. Each episode is centred on human narratives, where characters living 50 years from now have been deeply impacted by climate change.
Where did the inspiration for the idea come from?
The inspiration came from watching the critically acclaimed Netflix series "Black Mirror" by Charlie Brooker, an English satirist and broadcaster. Essentially, the series takes modern technology to the extreme and examines, through fiction, the unanticipated consequences of these new technologies. In "By Degrees", climate change underscores every episode, similar to the way technology underscores all "Black Mirror" episodes.

What motivates you to take on a project like this? Why was it important to you?
I'm passionate about communicating science in new ways that can truly reach the masses. TV fiction drama is a new and powerful way to have a bigger impact and get people genuinely engaged and thinking about an inevitable warmer future (even if we stop carbon dioxide emissions the world will continue to warm for a long time!). In contrast, other types of television programs like documentaries largely tend to preach to the converted.
Why choose the Grand Challenges for this idea?
The Climate Change Grand Challenges organised a pitching session to hear from staff and students about their ideas for the following year. The timing was right, so I pitched this slightly quirky idea and Matt England and the entire Grand Challenges team were very supportive from the start. I contacted filmmakers from Jungle Productions, who managed to triple the initial UNSW budget for the event by involving Create NSW, ABC Drama and Screen Australia, as well as AFTRS.
What was it like working with creative minds and script writers such as John Collee, ABC and Screen Australia?
John Collee, writer of Oscar-winning films "'Master and Commander" and "Happy Feet" is a truly inspiring man. In addition to being one of the world's top screen writers, he's had a fascinating life. He's worked as a doctor in Pacific Island nations and is a board member of the climate activist group 350.org.
When I contacted John about my idea for the TV series, he was extremely enthusiastic and supportive from the start. Through his support he raised the event to a much higher level than I anticipated. Jason Burrows and Courtney Gibson from Jungle Productions provided the contacts and expertise and Jason is now pushing forward with the project.
What have you taken away from this on a professional or personal level?
It's been a very rewarding experience in so many ways. I've met some inspiring and passionate people from different worlds and it's got me thinking and planning at a different level than my day job as a marine ecologist.
Do you have any advice for people who want to contribute to the Grand Challenges program?
I believe one of the most exciting aspects of the Grand Challenges program is the flexibility around what's possible underneath its umbrella, and the multidisciplinary nature of the events that have taken place. Every challenge put forward requires a different approach. My advice would be to use the program as an opportunity to think big and think outside the box.
Stay tuned for more details.
If you have an idea for a Grand Challenges event, please contact grand.challenges@unsw.edu.au.
Comments