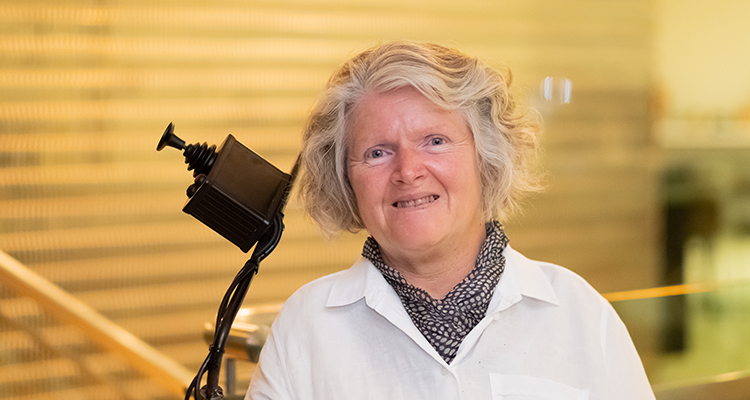 Successful applicants are researching projects such as barriers to refugees with disability, and early interventions for children with autism.
The UNSW Disability Innovation Institute is investing $200,000 in seven research projects that will provide innovative solutions to address barriers experienced by people with disability.
Interim Director of the UNSW Disability Innovation Institute, Rosemary Kayess, said she was encouraged by the 28 mostly interdisciplinary applications from all but one UNSW faculty for the inaugural round of funding offered by the Institute.
"The objective of the Institute is to support UNSW researchers in doing inclusive research. Innovation to provide inclusive technology, policies and learning environments, and all of these successful applications are part of that," Ms Kayess said. 

"The applicants looked at the social support spectrum, right through to the technology spectrum, and how people use information technology and what are the barriers to information technology, for people to be more able to engage socially and build their social networks and feel part of the community." 

One of the projects will explore the experiences of Syrian and Iraqi refugees with disability. 

"There's increasing presentation within the Syrian and Iraqi refugee population of people with disability, and their refugee backgrounds mean they are experiencing complex issues in terms of poverty, war and trauma," Ms Kayess said.  
 
"This project is about engaging with Syrian and Iraqi people with disability and their community to understand their experiences and get an understanding of their communities' views on disabilities and evaluate what barriers to services and support they might have."

Another project will look at the use of mobile technology in addressing the social isolation experienced by people with intellectual disabilities. 

"Social isolation has been recognised as being one of the key factors experienced by people with intellectual disabilities," Ms Kayess said. 
 
"This project looks at the way in which people with intellectual disability use mobile technology, as it relates to their social connections, and looks at what the impacts it is having on them, the barriers there are to using mobile technology, to developing social relationships." 

A project targeting people with severe mental illness will look at ways to improve their access to general health care.
"The interrelationship between physical health and mental health is well known. So if people have more effective pathways to be able to retain strong physical health, they are going to be able to be in a better position to manage their mental health," Ms Kayess said.
Another project will look at how technology can be used to bring people with disability into the employment space by analysing the experience of people with a disability in China and Australia. 
"This one is focused around the digital economy and it's looking at the opportunities for greater employment participation for people with disability, who traditionally  have not had access to mainstream employment," Ms Kayess said. 

"They are looking at the experience in China and Australia where they've found people with a disability who have taken up employment opportunities in the digital economy, including e-entrepreneurship, jobs in IT and launching enterprises, and online sales of their creative output."  

The seven seed fund projects are: 
Embodied Experiences of Syrian and Iraqi Refugees Living with Disability Through a Lived Experience Lens, by Ruth Wells and Dr Julia Lappin from the School of Psychiatry; Professor Katherine Boydell from the Black Dog Institute; and Dr Caroline Lenette and Dr Angela Dew from the School of Social Sciences. 
Mobile Technology as a Tool to Increase Social Inclusion of People with Intellectual Disabilities, by Scientia Professor Andrew Martin, A/Prof Iva Strnadova, A/Prof Therese Cumming and Dr Joanne Danker from the School of Education; and Julie Loblinzk from Self Advocacy Sydney.
Pathways to Preventive Care for People with Severe Mental Illness, by Dr Catherine Spooner, Professor Mark Harris, A/Prof Ben Harris-Roxas and Jane Taggart from the Centre for Primary Health Care and Equity; Professor Karen Fisher from Social Policy Research Centre; and Conjoint Associate Professor Patrick Bolton from Medicine. 

Disability Employment and the Fourth Industrial Revolution, by A/ProfBingqin Li, Professor Karen Fisher and A/Prof/Scientia Fellow Zhiming Cheng from the Social Policy Research Centre. 
Data Governance and the NDIS, by Dr Sue Olney, Dr Karen Gardner and A/Prof Helen Dickinson from Canberra Business School; and Professor Pamela Hanrahan from the Business School; and A/Prof Gemma Carey from Centre for Social Impact. 
Achieving Best Outcomes for Children with Autism: What Will Work for Whom?, by Professor Valsamma Eapen and Dr Anne Masi from the School of Psychiatry; Dr Kylie-Anne Mallitt from the Centre for Big Data Research in Health and Professor Ilan Katz from the Social Policy Research Centre. 

Can Virtual Reality Games Increase Perspective-Taking and Helping Behaviours for Disabled People?, by Dr Veronica Zixi Jiang and Dr Songting Dong from the School of Marketing; Professor Shan-Ling Pan and Dr Yenni Tim from the School of Information System; and Dr Andrew Yip from the iCinema Centre for Interactive Cinema Research.
Comments