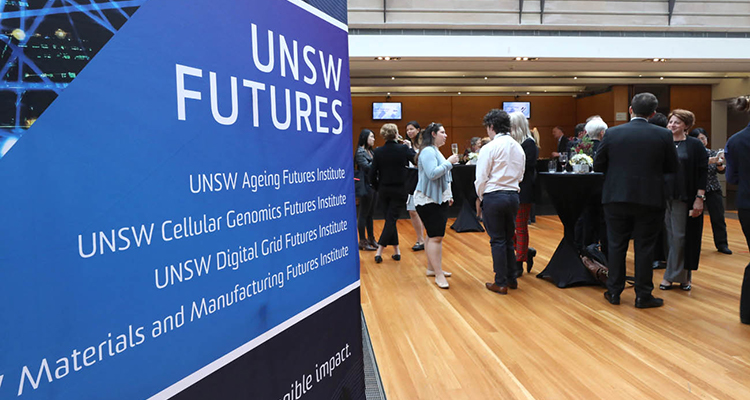 Global challenges. Robust platforms. Real and tangible impact.
The UNSW Futures initiative grew out of a recognition that solutions to the grand challenges of the 21st century will only be identified through more profound cross-disciplinary collaboration. UNSW is investing up to $200 million over seven years to resource a suite of virtual research institutes which link areas of existing research strength to address a pressing global need.
"The UNSW Futures initiative provides a framework for facilitating cross-faculty and cross-disciplinary work, driving innovative approaches to research, addressing scientific and social challenges, and positioning UNSW as a big picture visionary university of the future," said Professor Nicholas Fisk, DVC Research. The first four Institutes were launched in 2018:
UNSW Digital Grid - Future-proofing global energy systems to ensure reliable, secure, affordable, sustainable energy.
UNSW Ageing Futures - Enabling optimal ageing for individuals and society.
UNSW Cellular Genomics Futures Institute – Pioneering single cell genomic technologies for precision diagnostics and personalised treatment of human disease.
UNSW Materials and Manufacturing - Transforming the future of materials and manufacturing research in energy, transport, information technology, and healthcare
Over the coming weeks, Inside UNSW will bring you updates on these four institutes. This week we bring you some upcoming information on UNSW Ageing Futures.
UNSW Ageing Futures Institute Symposium
The inaugural UNSW Ageing Futures Symposium is an opportunity to hear about the research and expertise of Institute investigators, keep up-to-date with the current and future work of the Institute, and network with fellow researchers. Food and refreshments will be provided throughout the day.
When: 11th December 2019, 9am-5pm AEDT
Where: UNSW CBD Campus, Level 6, 1 O'Connell St, Sydney NSW 2000 (6-minute walk from Wynyard Station)
Registration to this event is free. Please register through Eventbrite.
2020 Seed Grant Funding: Applications Open
The UNSW Ageing Futures Institute is offering seed funding grants in the range of $30,000-$50,000 AUD to support interdisciplinary research addressing the current global challenges and opportunities of an ageing society. The grants aim to promote interdisciplinary research collaboration and facilitate leadership development in ageing research for Early to Mid-Career UNSW Ageing Futures Institute investigators and associate investigators.
Download the 2020 Seed Funding Guidelines and Application Form and Research Plan Template here.
Seed Grant FAQs can be found here.
The key dates for this funding round are as follows:
Applications Open: Friday 25 October, 2019.
Applications Close: 5.00pm (AEDT), Friday 6 December, 2019.
Announcement: Successful applicants will be informed in early 2020 for Research Seed Grants to also commence in early 2020.
Funds to be spent by: December 31, 2020.
Comments