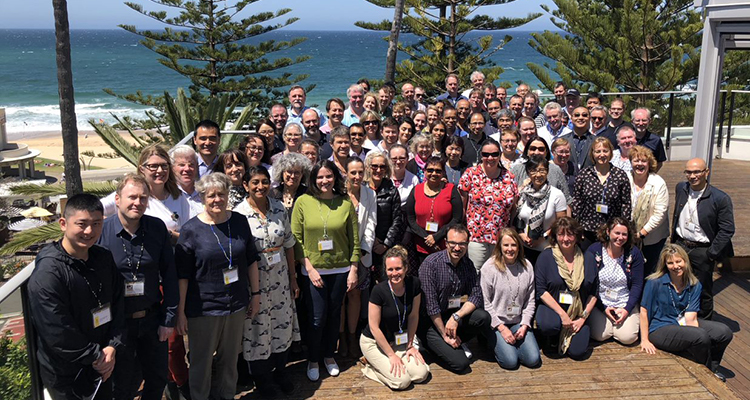 UNSW's Education Focussed (EF) academics gathered in Wollongong for the second EF Retreat on 29-30 October 2018.
UNSW's commitment to educational excellence was highlighted this week as Education Focussed academics gathered in Wollongong to reflect on and develop strategies to improve the educational experience of students at the University.  
The two-day event was led by Professor Anne Simmons, Pro Vice Chancellor, Academic Excellence; Associate Professor Cath Ellis, Associate Dean, Education; and Associate Professor Louise Lutze-Mann, Director of Education Focussed Career Development, PVCE. It provided an opportunity for Education Focussed academics to establish synergies and further develop their communities of practice.  
The Education Focussed community at UNSW, having this year welcomed 38 new academics, now has a membership comprising 216 academics across all faculties. This rapid growth highlights the way in which UNSW is leading the way in educational excellence and investing in educational leadership, professional development and teaching innovation. 
The retreat centred on the theme Making a Difference. The opening session was led by Associate Professor Ellis and Ms Keelin George, Manager, Student Surveys and Engagement. It provided a clear-eyed and in-depth analysis of student survey data on educational experiences.  
"This year's QILT results have provided us with tangible measures and the opportunity to benchmark our performance to other institutions. After careful analysis of the data we have a good understanding of where we need to improve the student experience we offer in targeted, specific areas across the university," said Ms George.  
This analysis provided the framework for the retreat's thought-provoking and action-oriented sessions on caring for students and their learning. It focussed on constructive feedback, developing professional skills and learning design.  
Guest speaker Sue Bennett, from the University of Wollongong, led the attendees through a session on learning design. She highlighted the ways in which Education Focussed academics could immediately impact learning, not only in their own practice, but also within their schools and faculties through a collaborative approach to learning design.  
"Having only been EF for a week, I was particularly struck by how collegial and inclusive the EF group was at the Retreat. It's fantastic to come into a community that appears to be incredibly inclusive from its inception," said Dr Angela Maharaj, Lecturer in the Climate Change Research Centre. 
Perhaps the most notable feature of the retreat was the overwhelmingly strong sense of community among the Education Focussed academics and their passionate commitment to drive educational change and excellence at UNSW.
Comments