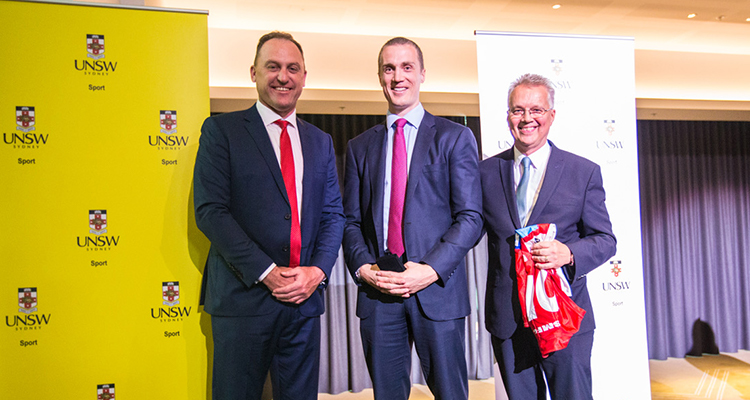 AFL stars Ted Richards and Tadhg Kennelly, surfer Jessi Miley-Dyer and cyclist Stephen Wooldridge officially added to UNSW sporting pantheon.
Past and present stars of the UNSW sporting fraternity paid tribute on Thursday as four new members were added to the prestigious Sports Hall of Fame.
Former Sydney Swans stars Ted Richards and Tadhg Kennelly, surfer Jessi Miley-Dyer and cyclist Stephen Wooldridge (posthumously) were honoured at a gala luncheon at Randwick Racecourse.
UNSW's Head of Sport and Community, Mark Wright, used the event to speak passionately about the newly developed 2025 Sport Strategy and the desire of UNSW Sport to create a community of sporting alumni – with the Hall of Fame members vitally important to achieving that ambition.
As a demonstration to the commitment of the University towards this goal, previous Hall of Fame inductees in attendance were presented with medallions honouring their membership – in addition to the certificates they had received at the time.
Hall of Fame members Alex Blackwell (cricket), Bob Dwyer (rugby) and George Peponis (rugby league) participated in a lively discussion on stage about the current state of Australian sport.
All three expressed the belief that balance is extremely important for high performance athletes in the age of professionalism.
"When the game went professional we thought that meant paying players, but it clearly doesn't, there's a lot more to it," 1991 Rugby World Cup winning coach Dwyer said.
"We insist at club level on education as part of our scholarship program.
"When I was coaching the Waratahs, you couldn't get an academy contract unless you were full-time employed or a full-time student – you had to be one of those things.
"So the balance there is pretty good I reckon."
Blackwell, who played more than 250 times for the Australia women's cricket team, believes that is a newer issue for women's sports to work through.
"But we have the opportunity to get it right, or do it slightly better," she said.
"Because we've got the benefit of seeing male sport that has gone through professionalism a lot earlier than women's sport.
"I think taking notice of the growth and performance of your athletes as people is really, really important to ensuring it's not just about the runs or the wickets they take, there's also balance in their high-performance program that is down to their education plan, their career plan."
The importance of balance and education was a sentiment echoed throughout the inductions of the new Hall of Fame members.
Ted Richards, former Sydney Swans premiership player and graduate of UNSW's Bachelor of Commerce program, is a strong believer in the power of education for elite athletes.
"I was very excited when I moved to Sydney," Richards said as he received his medallion. "One of the first things I wanted to do when I arrived was continue my study.
"I got to meet Helen Bryson (UNSW Elite Athlete Program Manager) very quickly and worked out that I could enrol at UNSW."
Richards thanked the university for its support of elite athletes, as well as the Swans for encouraging him to complete his study and pursue a career beyond football.
Richards' former teammate Tadhg Kennelly was unfortunately unable to attend the event due to commitments in Ireland, but his medallion was accepted on his behalf by Swans coach John Longmire, who regretfully declined to re-enact Kennelly's famous Irish jig from the club's 2005 premiership.
Longmire also emphasised the support the club has for players who are studying, noting that 90 per cent of the current crop of Swans players either work or study outside the sport.
"It's a really key element to having a balanced person, which then turns into a balanced and great athlete," he said.
"Thank you to everyone who has been involved in Tadhg's career from the study side, he really appreciates that.
"He appreciates the work the University has done and continues to do in the very tricky balance between managing elite sport and still continuing to study."
Former elite surfer Jessi Miley-Dwyer, who graduated from UNSW with a Master of Business, highlighted the importance of the support the University gives to elite athletes in allowing them to determine a post-retirement career path.
"I was extremely fortunate to come here on a Ben Lexcen scholarship and, to be honest, I probably never would have been able to come to a uni like UNSW without the Elite Athlete Program that we have here," she said.
"Especially being a surfer, I didn't have ability to be in one place – I was skipping around to different countries and following different swell cycles.
"To be able to come here and be a part of that program and to get to go to a really good university – you always want the best for yourself and it gave me the opportunity to get a great education."
Former Director of Development at UNSW Engineering, Stephen Wooldridge, was inducted posthumously and his father John and children Thomas and August accepted the medallion on his behalf.
Wooldridge was an important member of the UNSW Engineering team and was responsible for leading the expansion of philanthropic fundraising from industry, foundations, alumni and individuals to support the research and education goals of the Faculty.
His father thanked the University for its support of Stephen and his family and was proud to receive the award on his late son's behalf.
The UNSW Sports Hall of Fame was launched in 2003 to honour UNSW students and staff, past or present, who have achieved success at the highest level of sporting competition or made a significant impact on community, country and/or the sporting world.
There are currently 23 members, including three-time Ashes winning cricket captain Mark Taylor and former Queensland Reds and NSW Waratahs coach Ewen McKenzie.
This year's event was well-attended, with over 170 people at the venue to witness the historic occasion and celebrate the achievements of the four inductees.
Comments