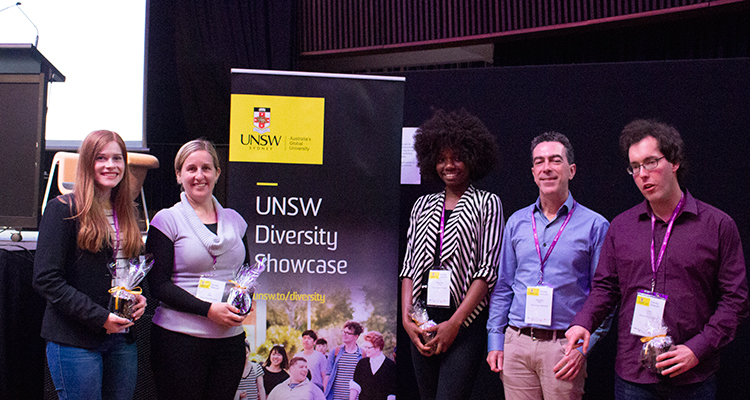 The inaugural UNSW Diversity Showcase brought together UNSW students, staff, alumni and industry to start the conversation on diversity and inclusion in graduate employment.
Our recently-held Diversity Showcase, organised by Careers and Employment, featured a series of panel discussions, activities, presentations and a "Reverse Expo", where UNSW diversity groups and initiatives, such as Aspire, ALLY, Nura Gili, Capital W, Disability Services and Engiqueers, hosted stalls for industry guests. The event was an example of divisions across UNSW coming together for a University-wide initiative and involving students as partners, from organisation through to delivery.
"This Showcase was an opportunity for us to become involved in improving diversity and inclusion outcomes in graduate employment," said Professor Eileen Baldry, Pro Vice-Chancellor, Equity, Diversity and Inclusion and Deputy Chair of the NSW Disability Advisory Council.
"What I have seen for many years - and I hope this is now the beginning of the change - is that students from diverse and disadvantaged backgrounds do not have the same opportunities as students from more privileged backgrounds. The purpose of the Showcase was to raise awareness, helping prospective employers understand the challenges of hiring diverse talent, and to develop tactical strategies to do so." Throughout the day's activities, the participants identified solutions to the issues faced in relation to diversity in employment including workplace modifications, unnecessary position requirements, non-visible impairments, recruitment processes and lack of awareness, and how employers can make their work environments and processes more accessible.
Bec Harcourt and Derek Kinchela presented on behalf of Nura Gili and demonstrated the work UNSW does in preparing Indigenous students for the workforce. This was followed by industry presenters Jay Ingram and Leah Finnigan from the Australian Public Service Commission, and Stewart Hay from Intopia, a digital accessibility company.
"It doesn't matter if someone is blind, comes from an Indigenous background, or has a cognitive neuro-diverse issue," Stewart said. "For me, it's trying to make sure the whole advertising process and the employment recruitment process is as accessible as possible."
In the alumni panel event, several former students - who now work at Sydney Children's Hospital Network, Amazon, Inter Systems, PrAIject and Lendlease - shared their career experiences.
For more information on the event please contact Careers and Employment.
Comments