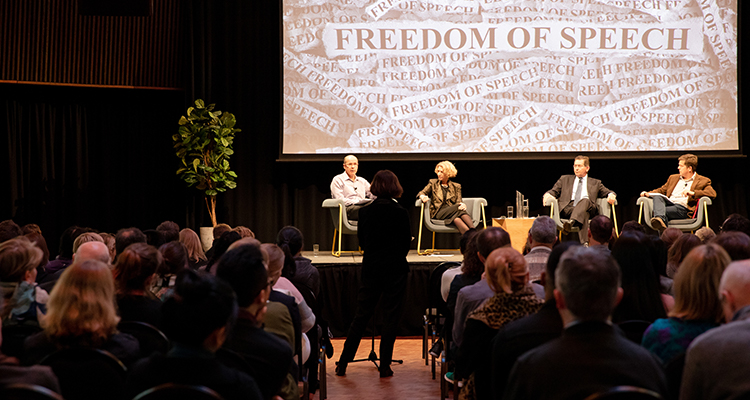 UNSW has reiterated our position on freedom of speech on campus at a lively lunchtime panel discussion.
In a recent article in The Australian, UNSW President and Vice-Chancellor, Professor Ian Jacobs, along with our Chancellor, Mr David Gonski, presented the strong stance taken by UNSW on the importance of free speech on campus.
In the article, Professor Jacobs stated, "Our starting point, our fundamental principle is that freedom of speech in the university should be the same as freedom of speech anywhere else in Australia unless there is a very, very, very powerful reason otherwise."
"We are constrained by the law. But apart from that, someone speaking in the centre of Randwick (near the university campus) should be able to say the same thing on the university campus," Professor Jacobs said.
In the same article, Mr Gonski agreed: "We want this place to be the same as outside and be an open place for discussion."
At a lively lunchtime panel discussion in the Roundhouse last week, Professor Jacobs was joined by Professor Eileen Baldry, DVC Equity Diversity & Inclusion, and Professor George Williams, Dean of Law, to present their views on the importance of free speech on campus. The event was hosted by Scientia Professor Rob Brooks from the Faculty of Science.
Professor Jacobs echoed his publicly stated views that the same rules around free speech should apply on campus as in the general community.
Professor Williams extended on this view. "Universities must be open to all points of view and willing to engage with uncomfortable arguments. They must do so because they are public institutions with government funding, and because this is essential to their mission. The search for truth and new ideas is incompatible with closed minds and closed campuses," Professor Williams said.
Professor Williams believes a recent focus on free speech at universities is distracting attention from where this is a greater issue in Australia. "In these other areas, the problem is much closer to a crisis point. Defamation laws remain unreformed and national security legislation imposes undue government secrecy. Whistleblowers and journalists face imprisonment," he said.
Professor Baldry first put the discussion on free speech into the wider context of human rights and freedoms over the last 70 years. She then explained that UNSW has had policies and procedures for decades ensuring academic freedom and freedom of expression on campus.
"UNSW has always had clear policies and codes to protect academic freedom and freedom of expression. Post the French Review, alongside other GO8 universities, we voluntarily reviewed our codes and policies to ensure that this institution was doing everything possible to protect the right to freedom of speech on our campuses." Professor Baldry also reminded us that "with freedoms and rights comes responsibility to express our opinions and ideas in a respectful and lawful way."
Watch the full discussion here.
Comments