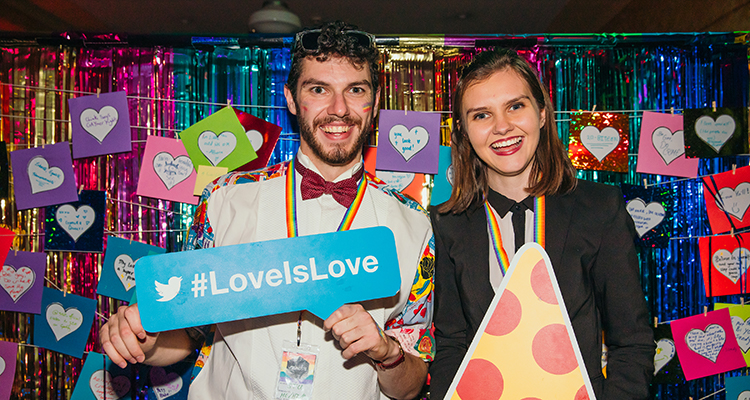 UNSW was a proud sponsor of the 2019 Queer Formal.
Run by The Minus18 Foundation, more than 400 LGBTIQ+ youth came together for a celebration of identity where they were free to bring a same-sex partner to the Formal and connect with the community.
The Queer Formal has been running since 2010 in response to the high rates of bullying that LGBTIQ+ young people face, particularly at such school events. Many young people are told they cannot attend their high school formal with a same sex partner, while others are made to feel uncomfortable for wearing clothes that align with their gender identity.
Ten UNSW students and staff volunteered at the Queer Formal.
Stuart Maclaine, Deputy Dean of Fig Tree Hall UNSW, enjoyed the experience.
"Volunteering at the Minus18 Formal was just the most amazing experience! It was fantastic to see so many young people finding themselves in such a safe and welcoming environment. The UNSW volunteers were responsible for the 'Chill Out' space, so were lucky to have many personal interactions with the attendees and hear their stories. This was really heart-warming and I am definitely putting my hand up to help at the next one!," said Ms Maclaine.
Tierney Marey, Project Officer in the Division of Equity Diversity & Inclusion agrees.
"Volunteering at the Queer Formal was an exceptionally rewarding experience. Seeing young people from the LGBTIQ+ community have such a joyous time in a space where they could be their full selves was affirming and inspiring. All the participants at the Queer Formal brought such vibrancy to the evening and were committed to creating an environment where they could make new friends and make everyone feel included," said Ms Marey.
Guests attended a sit-down dinner, heard live music, listened to inspiring speeches, relaxed together and danced the night away.
"Sponsoring the Queer Formal demonstrates that UNSW has a serious commitment to the health and wellbeing of young LGBTIQ+ people," said UNSW LGBTIQ+ Diversity Champion, Dr Bridget Haire. "Providing opportunities for people from sexual and gender minorities to socialise, network and celebrate is really important. It breaks down feelings of isolation and shows young people that they are valued for who they are."
Comments