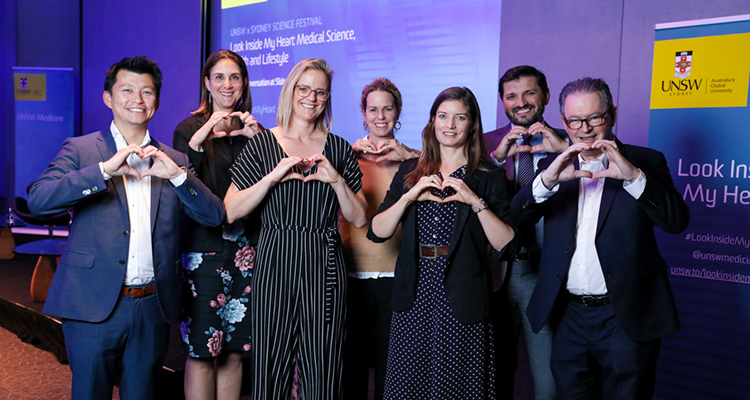 A UNSW Medicine panel discusses diet, exercise and healthy lifestyle habits – translating cutting-edge research into easy life tips that encourage better heart health for everyone.
The recent Look Inside My Heart: Medical Science, Health and Lifestyle event shared the latest scientific research, issues and medical developments around heart health and cardiovascular disease. Part of the Sydney Science Festival and hosted by UNSW Medicine, the event featured some of our leading academics in a panel discussion. It was an important opportunity to emotionally connect with the community, showcase our leading academics and translate our research into practical tips that will benefit everyone.
"The heart has an incredibly important place in our psychology and our culture, but heart disease also has a really important place in our health. If we look at the causes of death in Australia and around the world, heart disease is number one," said panel chair Scientia Professor Vlado Perkovic who is incoming Dean of UNSW Medicine, transitioning from the role of Executive Director of the George Institute.
"We have made huge progress - which is fabulous, but the job is not done as heart disease rates have begun to plateau or even increase. We have much left to do. We need to double our efforts to understand why this is happening and how we might address it."
The panel discussion launched a larger ongoing public and social awareness campaign, 'Look Inside My Heart'. The campaign aims to not only highlight medical research at UNSW Medicine by working to understand the physiological functions of the heart itself, but also to share our emotional connection with the wider communities who are affected by cardiac-related diseases. Together with the Faculty's partner organisations, Centres and Institutes, UNSW Medicine is championing and leading impactful research in cardiovascular and heart health that can be translated into real world outcomes.
The 'Look Inside My Heart' event prompted an enthusiastic discussion around healthy heart habits, the importance of diet and exercise, current research surrounding the impact of smoking, drinking and other drug use, and what to do if you feel the symptoms of a heart attack.
Practical tips from the panel included:
Try to make changes to your diet, even if they are small. Trying to eat more fruit and vegetables, and make other healthy changes will make a difference.

Make the most of the food label when shopping. The Health Star Rating for example is a great way to compare the healthiness of similar packaged items, but don't let it replace common sense – many of the healthiest choices (e.g. fresh fruit and veg) don't come in packages.

11 minutes of vigorous exercise a day is all you need to help your heart (or 22 minutes of moderate exercise) – so choose to move.

Don't smoke - smoking is one of the single biggest risk factors for cardiac disease

If you have a family history of heart attack or stroke, be proactive and speak to your GP

Live a balanced lifestyle and manage your stress

Be kind to yourself- self-compassion can help with nutrition, eating behaviour and body weight
Scientia Professor Perkovic was joined onstage by Dr Jennifer Cohen (Sydney Children's Hospital and UNSW Sydney), Professor Michael Farrell (NDARC), Alexandra Jones (The George Institute Australia), Dr Belinda Parmenter (UNSW Sydney), Dr Rebecca Reynolds (UNSW Sydney), Dr Sze-Yuan Ooi (UNSW Sydney).
Nearly 350 people registered for the discussion. Attendees included the general public, staff, students, alumni and industry partners.
Learn more about ways you can improve your heart health and discover what UNSW Medicine and their partner organisations are doing to produce leading multidisciplinary research in the field of heart and cardiovascular disease. 
UNSW Medicine encourages the entire UNSW community to support this ongoing campaign.
Share your stories about why heart health is important to you on social media. Post a picture of yourself or something you love with a heart gesture made with your hands, tagging #lookinsidemyheart and @UNSWMedicine.
Comments