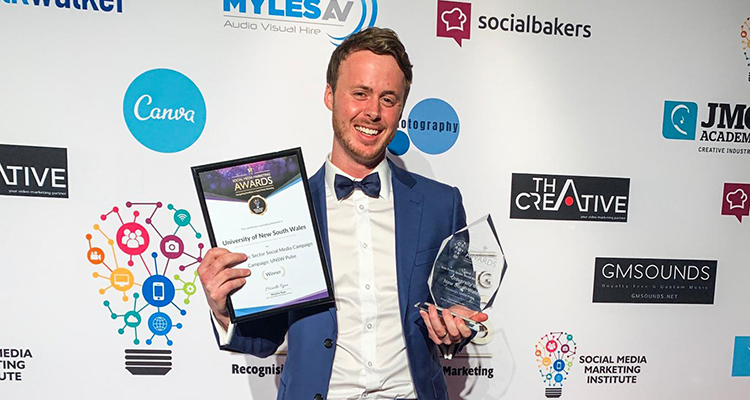 On Australian social media's night of nights, UNSW Pulse won the award for Best Public Sector Social Media Campaign.
Security kart karaoke, hugs from Mother Nature, exam tip trick shots and urban legends of UNSW. Each episode of the UNSW Pulse series is enjoyed by around 65,000 members of the UNSW community. It has now been recognised at a national level, being awarded Best Public Sector Social Media Campaign at last week's Social Media Marketing Awards in Sydney.
"With the Pulse series, we really wanted to change the way that we as a University communicate with our students," said Mr Jake Willis, Creative Director of UNSW Pulse from the Visual Content team, who was at Dockside, Cockle Bay to accept the award.
"We've tried to create engaging video content that, instead of speaking at them, actually speaks with them, building a social presence that our audience can trust and engage with.
"It felt amazing to be recognised at a national level and receive the award, especially considering the calibre of nominees. UNSW was a finalist in four different categories throughout the night, so it's a real testament to the fantastic work being done by the social team and broader content teams," Mr Willis said.
The collaboration between the External Relations Media & Content teams and Division of Equity Diversity & Inclusion during the Sydney Mardi Gras was also a finalist in Best Public Sector Social Media campaign. The Social Media team was a finalist for Best Corporate Social Media Team, Best use of Snapchat and Most Innovative use of Social Media.
Social Media Lead, Mr Jack Breen was a finalist for Social Media Marketer of the Year.
"The social team and I feel incredibly lucky to be working at a place like UNSW where creativity is fostered and there are so many talented content creators, like Jake, in our broader Media & Content teams," Mr Breen said.
"Our strategy is focused on using storytelling to capture and engage our audiences, in the way they like to digest content on social platforms. It is now really coming to life. The Pulse series, Mardi Gras coverage and our use of Instagram Stories and Snapchat, are great examples of our strategy in action. The feedback we get from our students and broader audiences is fantastic."
"I think I have the most fun job in the whole of UNSW," added Mr Willis. "I've been really honoured to lead the production of the Pulse series over the last few years. Its success truly is the product of so many people's work. This extends to the Social team and the wider Media & Content team, through to the Business School marketing teams from seven years ago where the Pulse concept originated."
Mr Willis presented at UNSW's inaugural Social Media Day last month on the impact of video and creating bite-size video content. You can watch his presentation, and others from the day, on the Social Media Day resources website.
Comments