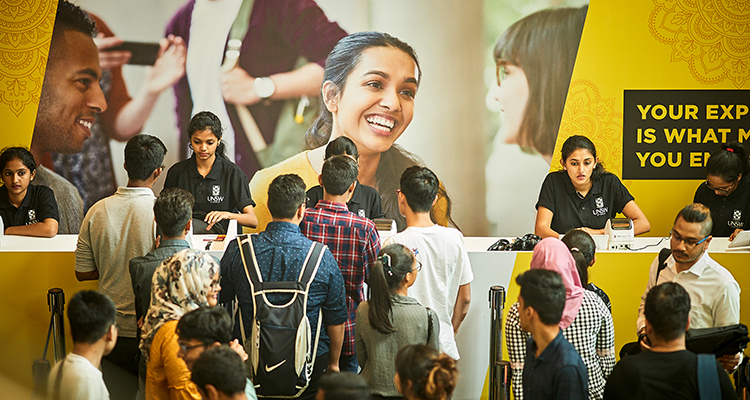 UNSW's flagship India Open Days saw more than 40 student ambassadors, academics and professional staff from faculties, student services and pathways meet prospective students and their families.
Held from 2 to 11 August in the cities of Bengaluru, Chennai, Mumbai and Delhi, UNSW welcomed over 800 unique attendees, with an estimated total footfall of 1,163. This was double the attendance of the inaugural India Open Days in November last year.
Faculty staff scanned 1,311 attendees, who have received personalised follow-up emails. Almost 10,000 marketing leads were captured across the four Open Day events.
Laurie Pearcey, Pro Vice-Chancellor (International) and CEO, UNSW Global said the theme of this year's India Open Day was a focus on employability.
"The Open Days encouraged Indian students and parents to explore 'what makes you employable' through a series of highly interactive experiences. This enabled them to explore the range of program options available at UNSW and the rich experiences offered to enhance students' employability," Mr Pearcey said. 
The program included panel discussions and master classes by our high performing academics, staff, student ambassadors and alumni; participating in design thinking workshops; building an impressive Linkedin profile; and immersing themselves in the UNSW campus via a virtual reality zone.
A special publication 'India@UNSW' was produced to showcase UNSW as a welcoming community for Indian students. It highlighted UNSW's strong ties with India and the rich variety of India-related events happening on campus throughout the year.
Fiona Docherty, Vice President, External Relations opened the first 2019 India Open Day in Bengaluru. This was part of a broader program involving partner school visits, media interviews, meetings with the Australian High Commission and The George Institute for Global Health in Delhi. Other engagements were with agents, partner institutions and a Facebook live session with prospective students.
Prior to the India Open Days, Laurie Pearcey, CEO, UNSW Global Pty Ltd and Pro Vice-Chancellor (International) led representatives from the Business School, Built Environment, Engineering and Pathways on a visit to the Manipal Academy of Higher Education (MAHE).
New Study Abroad and articulation agreements were signed, and Mr Pearcey and Vice-Chancellor of MAHE Dr. H Vinod Bhat announced the first round of the UNSW-MAHE Collaborative Research Seed Grants Scheme.
The new seed grants of up to $20,000 are designed to foster collaborative research between researchers of the two institutions. Applications close on 4 October 2019. Please visit the Research Strategy Office website for more details.
"The delegation continued the positive discussions on the opportunities under the UNSW-MAHE Landmark Partnership. This includes potential in-country delivery of the UNSW Diplomas at MAHE and the joint appointment of a UNSW-MAHE Project Manager located at MAHE to drive the partnership," Mr Pearcey said.
Comments