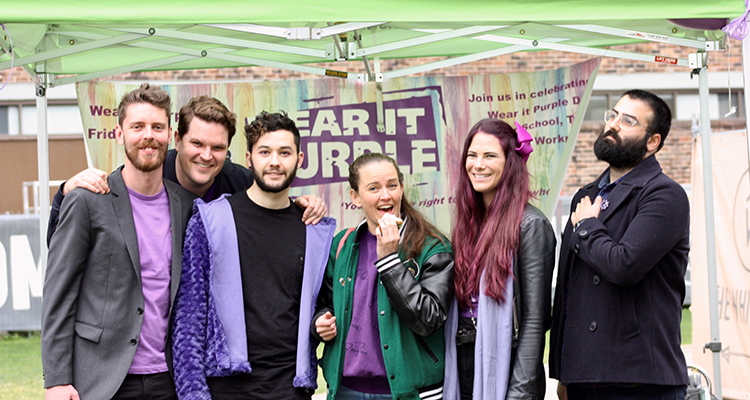 Purple lights will shine on the Scientia building in the week leading up to Wear It Purple Day on 30 August to celebrate the LGBTIQ+ youth community.
Wear It Purple Day was founded in 2010 by two young Australians in response to global stories of LGBTIQ+ teenagers taking their own lives due to bullying and harassment.
The day aims to show young people across the globe that there is hope, that there are people who support and accept them, and that they have the right to be proud of who they are.
Wear It Purple Day has grown into a worldwide celebration of diversity and pride, and an opportunity to help tackle stigma and discrimination.
The theme for this year is Stand Up. Stand Out.
"The theme of Wear it Purple Day invites us all to make a stand for the wellbeing of young LGBTIQ+ people, and their rights to live free from stigma, discrimination and harassment. Visible forms of solidarity matter, and that it why this day has become so important," said UNSW Diversity Champion for LGBTIQ+, Dr Bridget Haire.
Dr Haire, who was appointed UNSW's Diversity Champion for LGBTIQ+ in January, has been instrumental in providing a voice for the LGBTIQ+ community.
A Senior Research Fellow at the Kirby Institute and lecturer in public health and medical ethics, Dr Haire says that it should be second nature for UNSW to embrace LGBTIQ+ inclusion.
"A respectful, inclusive environment where discrimination is not tolerated means that every person gets a fair chance to reach their potential," she says. "This is not only good for individuals, it is good for the university community and for Australia as a whole."
She has been a passionate advocate and agent for change, collaborating with an LGBTIQ Working Group of students and staff from across the University.
Dr Haire is also a member of the ALLY network, which aims to ensure that UNSW is a safe, welcoming place for all students and staff who identify as LGBTIQ+. Students and staff can register for free ALLY training via the UNSW Staff Learning Portal.
Your division or faculty can get involved and support rainbow youth by wearing a bit (or a lot!) of purple or hosting an event in the office.
Check out this handy online toolkit for some inspiration and share photos of your team on Yammer to show your support and include the #wearitpurpleday hashtag.
Snag your photo opportunity at the purple-illuminated Scientia building on UNSW Kensington campus from 23 – 30 August.
Comments