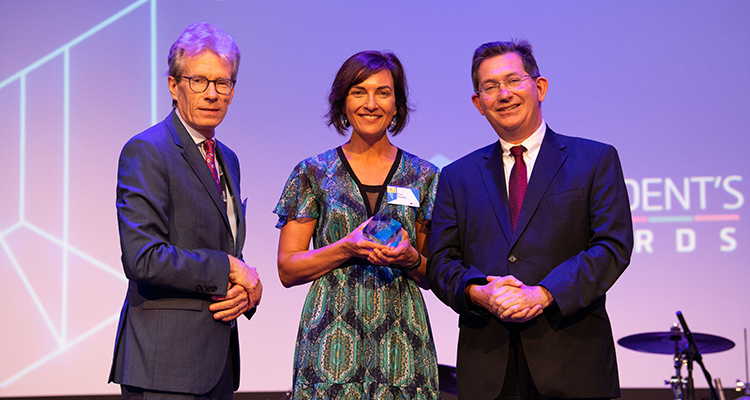 The 2019 President's Awards nominations close on Sunday 25 August. Get yours in now.
Nominate an individual or a team that deserves recognition in this year's President's Awards.  The Awards provide an opportunity for staff to celebrate those who light up UNSW.
"As the recipient of the Excellence Award in 2018, I can only say what a wonderful honour this was - and a complete shock," said Kiran Thwaites from the Medicine Education Support Unit and recipient of last year's President's Award for Demonstrates Excellence.
"It felt amazing to be appreciated for the work I do for the Medicine Faculty and meet others across the University who are doing great work in such a variety of areas. I encourage you to consider who might deserve recognition in 2019 and, like me, make their year a special one."
The President's Awards highlight the achievements of those that demonstrate the Values in Action: Our UNSW behaviours:
Embraces Diversity

Displays Respect  

Builds Collaboration

Demonstrates Excellence

Drives Innovation
Nominations will close on 25 August.
All nominees will be showcased on the President's Awards site where you can read the unique contributions of this year's nominees. As we have done for the past few years, nominees will be eligible for the People's Choice Award; the most popular nominee as voted by UNSW staff. Voting for the People's Choice Award will open once the nomination period has closed.
The President's Awards event will be held on Wednesday 9 October, an occasion to celebrate the contributions of all nominees and announce the awardees for each President's Awards category and the People's Choice Award.
All awardees will receive a contribution to their professional development of $5,000 per award category and an invitation to dine with the President and Vice-Chancellor, Professor Ian Jacobs.
Comments