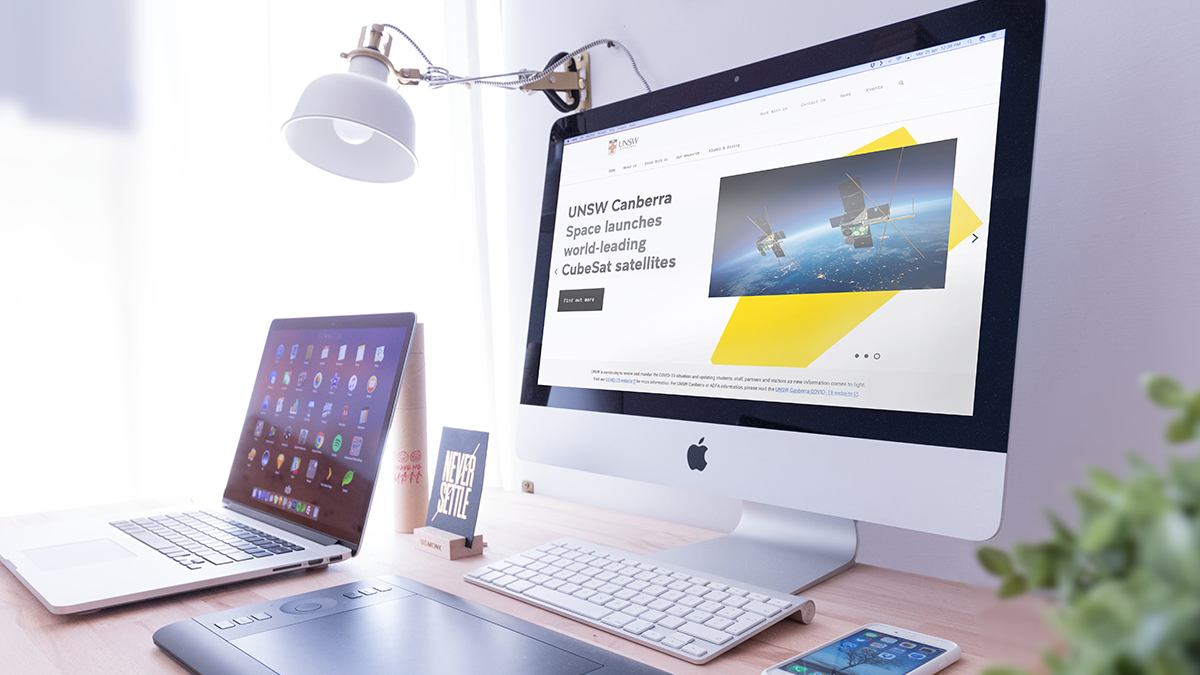 UNSW Canberra launches its transformed and updated website.
UNSW Canberra and UNSW Sydney's Division of External Engagement (DEE) shared a vision to make UNSW Canberra's website more engaging, accessible and user friendly. UNSW Canberra's Creative Media Unit and DEE's Web Operations and Transformation Team (WOTT) partnered to make this vision a reality.
UNSW Canberra's old Drupal 7 website was built in 2014, but it no longer reflected best practice or user needs. Survey results supported this, as results indicated navigating the site was cumbersome and confusing. The website contained duplicated, inconsistent and outdated content that was not Search Engine Optimisation (SEO) compatible.
The objective of the UNSW Canberra web project was to move the current site from Drupal 7 to Drupal 8, utilising the Global Experience Framework to align UNSW Canberra with the rest of the University. The aims were to enhance the discoverability of information, remove content duplication, ensure it was accessible and user friendly, improve SEO and increase website traffic.
The project team worked with over 100 stakeholders to design, develop, collect and compile all the content. The project was led by Mika Tranter and Kylie Simmonds and supported by UNSW Canberra's leadership team. DEE's Tracy Carter and her team mentored the project team. The team worked closely with nominated staff members from each School, Unit and Department to audit existing content and approve rewrites. They also consulted widely with a stakeholder committee to ensure decisions were appropriate and supported.
The new website was launched on 25 March 2021 to overwhelmingly positive reviews. It's a big website with approximately 2200 pages, structured in a way that avoids duplicated content and promotes the single source of truth.
UNSW Canberra is continuing to work closely with schools and service units, and plans to roll out content and Drupal 8 training shortly. The team hopes to transition Adobe by the end of the year, bringing Canberra into line with the rest of UNSW.
The best thing about working closely with UNSW Sydney was the shared access to the Global Experience Framework templates. This means UNSW Canberra is now part of a unified UNSW digital experience, and can be confident that its stakeholders will have the best experience from their end.
Check out the new website here and if you'd like to find out more, email Kylie Simmonds, Head of Communications and UNSW Canberra's Creative Media Unit.
Comments