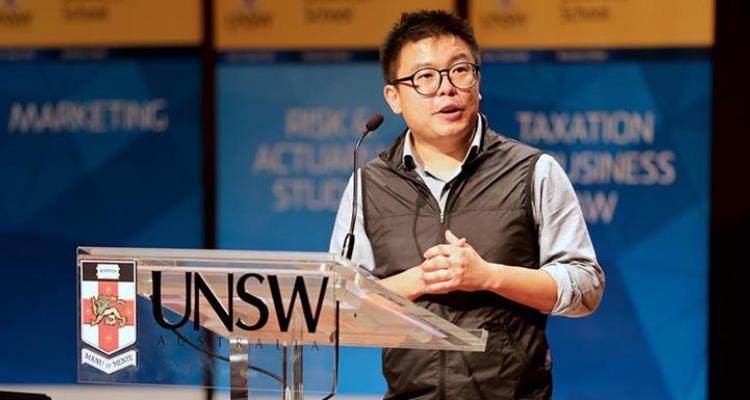 From disrupting the service marketplace to enriching the careers of UNSW entrepreneurs, Airtasker co-founder Tim Fung is changing the future.  
Plucking grey hairs. It's an image we typically associate with fear of old age, but for UNSW Business School alumni and co-founder of the hugely successful startup Airtasker, this offbeat activity heralded the birth of a passion for entrepreneurship and the beginning of a very prosperous journey.  
"My dad used to give me two cents for every one of his grey hairs I pulled out. One time he raised that figure to 10 cents, then fell asleep in front of the TV so I just kept on going," Tim recalls. "I plucked 250 hairs and earned myself $25, which was a lot of money when I was eight or nine. I remember being stunned, like I had all the money in the world."  
Tim speaks with gusto of the many creative enterprises he has pursued since that cheeky experience, including one he launched with fellow UNSW students that combined their love of car racing with a desire to supplement their student incomes. 
"We would basically discover racetracks then sell tickets to people who wanted to come. We didn't make a tonne of money, but being students, and being exceptionally poor, it allowed us to do what we wanted to do – which was to drive our cars fast." 
Tim recalls his time at the University fondly, citing UNSW's strong brand positioning in business as a key reason he chose to study with us.  
"I loved uni. It was probably one of the best times of my life," he says. "I don't think I necessarily scored that well, but one of the things that made it great was meeting and interacting with all sorts of super smart people from all over the world."   
Tim is a visionary who has helped transform the 'gig economy' with the launch of Airtasker, a digital marketplace that enables users to outsource everyday tasks. He speaks enthusiastically about the role universities play in the innovation ecosystem.  
"Universities are where a lot of the thinking happens, especially in the field of deep technology. You look at companies like Google and they all came out of universities, because they required so much support and resources."  
Fostering innovation and supporting budding entrepreneurs is important to Tim, as is evident by his ongoing engagement with UNSW. Since graduating with a Bachelor of Commerce in 2006, Tim has maintained meaningful contact with the Business School, delivering a commencement speech to inspire incoming students in 2016. 
Tim has also generously volunteered his time and expertise to the University's entrepreneurship ecosystem, contributing valuable insights and opportunities through the Founders 10x Accelerator – an intensive 10-week program tailored to high-potential UNSW startups who want to strengthen their entrepreneurship skills and accelerate their business to be investor-ready.  
Tim was part of a select group of startup founders and business figureheads engaged to provide insights into the challenges of establishing a startup, his personal journey and challenges, to help motivate the Founder 10x companies.  
Tim says that he and Airtasker co-founder Jonathan Lui, who joined him in taking home the Young Alumni Award in 2016, hope to increase their involvement with UNSW.  
"We want to get more supportive of the UNSW Business School and young entrepreneurs," he says, reflecting on the changing dynamics within the world of work. "I think that the reality of the future is that work is becoming more fragmented and flexible, and with that comes a lot of good things. You get to choose how and when you work, and what type of work you want to do." 
The flip side of this is that while large corporations can provide support and resources in favour of scaling entrepreneurship, to ensure progress, Tim believes, there is a need for a stakeholder to "pull it all back together". 
"That's where I think things like universities, accelerator programs, support networks etc. help provide the social fabric that weaves it all together. Certainly, I'm more than happy to help," he says. 
The Founders Program is UNSW's platform for embedding entrepreneurial confidence in staff and students. It provides a clearly signposted journey to participants at all levels to instill in them the skills and resilience they need to succeed in the 21st century global marketplace. Visit founders.unsw.edu.au
Comments