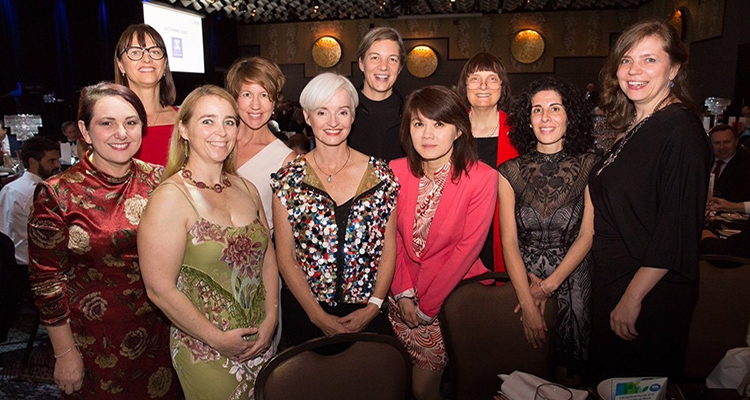 A group of high-achieving women from the faculties of Engineering, Science and Law represented UNSW at the 2018 Australian Academy of Technological Sciences and Engineering Innovation Dinner for the Clunies Ross Awards. 
At the dinner this month in Melbourne were 2018 Australian of the Year and Scientia Professor and Fellow Michelle Simmons, Centre for Quantum Computation & Communication Technology, UNSW Science; Professor Emma Johnston, Dean of Science;  Rose Amal, Professor of Chemical Engineering; Ana Deletic, Pro-Vice-Chancellor of Research; Penny Martens, Associate Professor Biomechanical Engineering;  Nicole Kessissoglou, Professor of Mechanical and Manufacturing Engineering; Damia Mawad, School of Materials Science and Engineering; Scientia Fellow Nicole Carnt, Optometry and Vision Science; Martina Stenzel, Professor of Chemistry; Professor Ewa Goldys, Deputy Director, ARC Centre of Excellence for Nanoscale Biotonics, and Director of the Allens Technology Hub in Law, Lyria Bennett Moses.  
The Dean of Science, Professor Emma Johnston, said: "It was a great privilege to celebrate science, technology and engineering on the night.  UNSW was well-represented at the dinner and I was honoured to share a table with my inspiring colleagues, accomplished women in their respective fields." 
At the dinner, Professor Michelle Simmons gave an inspiring keynote speech on "The Future of Computing: A Silicon Based Quantum Computer". Michelle is recognised for her contribution to the field of quantum computing and is renowned as a pioneer in atomic electronics. 
UNSW Sydney was a sponsor of the event.  The Dean of Engineering, Professor Mark Hoffman, who also attended, was proud to be in the company of such high achieving women all with distinguished accomplishments and from diverse backgrounds. He said he was delighted to see so many of his UNSW colleagues attend, representing Engineering, Science and Law.  
"It was wonderful to see Michelle Simmons give an amazing keynote speech on her outstanding research in quantum computing," he said.  
Now in its 27th year, the Clunies Ross Awards are presented for Entrepreneur of the Year, Knowledge and Commercialisation, and Innovation. They are the nation's premier annual awards for innovation commercialisation and bring together Australia's top leaders and innovators from research, industry, academia and government and provide a valuable networking opportunity.  
Comments