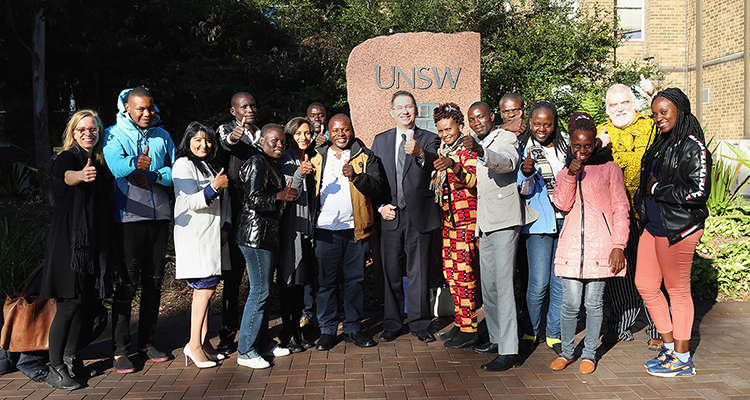 A group of nine students and two staff members from Gulu in northern Uganda, who are visiting UNSW Sydney as part of the University's summer school exchange program with Gulu University, are gaining invaluable insights into the latest Australian farming and business practices.
A focus of the trip is for the students to observe agricultural practice in Australia and consider how they can implement what they learn to improve farming in Uganda.
The students are also learning about technology and innovation, project planning and entrepreneurship. A hackathon provided the opportunity to work on sensors, used on farms to measure things such as soil salinity, which the students will take back to Gulu to showcase the technology in use in Australia. A social entrepreneurship workshop led by Selena Griffith, from the Centre for Social Impact, helped the students learn how to turn their ideas into practical action.
The student visit is hosted by Associate Professor Julian Cox, Faculty of Engineering and the Institute for Global Development (IGD), who says he is proud to be a part of such a successful innovative exchange program.
"As the students have a background in agriculture and related areas, their visit to farms in Boorowa, on the South West Slopes of NSW, has given them further insight into the possibilities of agricultural farming today," Julian says.
The students met local farmers and members of the Boorowa community, including the Rotary Club of Boorowa.
The visit to regional NSW included a visit to Canberra, where the students met the Ugandan High Commissioner, Professor Joyce Kikafunda.
Earlier, on their arrival at UNSW, the students received a warm welcome by the Vice-Chancellor, Professor Ian Jacobs, and Prem Ramburuth, Professor of International Business and IGD Africa Academic Lead.
While on campus, the students were also welcomed over lunch by Professor Mark Hoffman, Dean of Engineering, where they had the chance to reunite with Engineering exchange student representatives Elia Hauge and James Gore.
In welcoming the students at the lunch, Professor Hoffman asked the students about their studies and challenged them to reflect upon their experiences in Australia in relation to what they hoped to achieve after they graduated.
Before the students leave they plan to meet Professor Eileen Baldry, Deputy Vice-Chancellor Inclusion and Diversity, to discuss gender equity, which was identified early as a topic of great mutual interest. 
Links: From Uganda to Boorowa: Gulu University students visit local farms
Comments