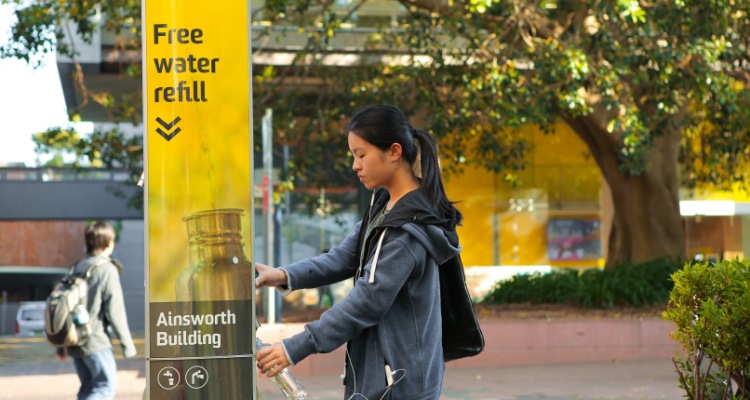 The UNSW Sustainability team is urging everyone at UNSW to take the Plastic Free July challenge and take some simple steps to reduce the amount of plastic in their lives.
Plastic Free July is a global campaign in which millions of people around the world pledge to change their habits and reduce their use of single-use plastics.
"Plastic waste has become a major global concern, with some studies showing that there could be more plastic than fish in the ocean by 2050 unless urgent action is taken," said Arifa Sarfraz, Environmental Sustainability Manager.
"Our goal is to become a single-use plastic free campus, and this is the start of our journey. We aim to move away from disposable plastic items for hospitality, retail food outlets and office areas. Through the Plastic Free July campaign, we are hoping to raise awareness and work towards our vision."
UNSW Business and Campus Services is working with campus retail outlets to raise awareness and reduce the availability of some of the main single-use plastics offenders: disposable coffee cups, straws and plastic bags. Not only will you see posters in many of the outlets pledging their commitment to this cause, you'll also notice the availability of such plastic items reduce.
UNSW Science launched their own sustainability drive earlier this year on Earth Day. The faculty has been inspiring staff to become more involved with the cause by encouraging them to share tips and photos of how they combat waste on campus. Participants are given reusable faculty merchandise packs that reduce single-use plastic.
Community & Engagement Officer Alyce Taylor said: "UNSW Science was keen to take a lead in recognising and celebrating the ways in which our staff and students create a more sustainable campus. We've had a lot of great tips so far and Science looks forward to sharing what we learnt from the campaign with the broader UNSW community."
Other initiatives that the faculty is rolling out include a "lunch box champions" photo competition, and a series of sustainability lectures and DIY lunchtime workshops.
Take the challenge and 'choose to refuse' single-use plastic during July.
Comments